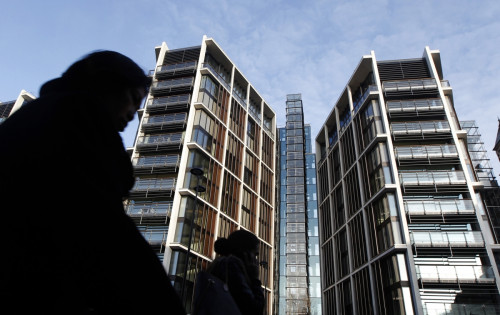 Growth of prime London property prices will slow sharply in 2014, according to an asset management firm focused on the luxury market, though talk of a bubble has been "blown out of all proportion".
London Central Portfolio (LCP), which manages funds based on prime property in the English capital, said prices would grow by 5.5% in 2014 having leapt by 12.5% the previous year. The average prime London property price will hit £1.62m in 2014.
LCP said this slowdown is due to pre-election jitters over Labour's and Liberal Democrats' commitment to introducing a mansion tax; a correction from above average rises the year before; and foreign investors selling up to flee Chancellor George Osborne's capital gains tax changes that will include them under the levy.
It comes amid warnings of oversupply in London's high-end property market. Noted property developer Nick Candy, whose Candy & Candy firm was behind the One Hyde Park luxury development, had warned that there may not be enough demand for the myriad building projects taking place in prime London locations such as Mayfair.
Estate agency Savills has also cautioned that it does not think all of the high-end London housing stock available justifies the attached price tags after £7bn of foreign investment flooded the market during 2013.
"Assertions that 2013 was the year of the bubble have been blown out of all proportion. The numbers do not show atypical price inflation, rather an increasingly short-term perspective adopted by many commentators and politicians," said Naomi Heaton, chief executive of LCP.
"Headline comments demonstrate a lack of knowledge of underlying growth trends in PCL. Rolling annual price growth, the most accurate market indicator as it removes seasonality or monthly volatility, has shown unremarkable growth of 12.5%.
"This compares with average growth of 9% over the last 40 years. It is way below the 26.1% growth experienced in 2000 – when no analyst even cottoned-on to potentially dangerous price escalation and which corrected itself in due course, without artificial manipulation."
To crack down on foreign speculators in London property, which pushes house prices up for everyone else in the English capital, Chancellor George Osborne will start charging non-resident owners of UK homes Capital Gains Tax (CGT) when they sell up.
He unveiled the measure in his 2013 Autumn Statement. It will come into force from April 2015.
"Britain welcomes investment from overseas but it's not right that those who live here have to pay CGT, but those who are non-residents do not," said Osborne.
Despite this, London overtook New York as the number one city for foreign property investors, according to a survey by the Association of Foreign Investors in Real Estate.
"Although the introduction of CGT may influence some investors to sell tax-free, the imbalance of supply and demand means that these sales, whilst causing a rise in transactions, will have little material impact on price growth," said LCP's Heaton.
"The absence of CGT has been a bonus for international buyers, but not a fundamental driver. As a tax realisable only on gains, any damage to sentiment will wash through and it will become accepted as part and parcel of investment into a world class market."