For the second time in a space of a week, Londoners have protested against US President Donald Trump's controversial travel ban on seven Muslim-majority countries.
On Monday (30 January), thousands of people gathered in Downing Street for an "emergency protest" which called for Prime Minister Theresa May to cancel Trump's state visit to the UK labelling it as inappropriate.
Now, crowds have amassed outside the US Embassy in Grosvenor Square and marched to Downing Street calling for the ban, now temporarily halted, to end.
The march was organised by a coalition of campaigners including Stand Up To Racism, Stop the War Coalition, the People's Assembly Against Austerity and the Campaign for Nuclear Disarmament.
Lindsey German, founder of Stop the War Coalition, labelled the ban as "racist".
"We've always been committed to being against Islamophobia and we think the 'Muslim ban' is a real racist, horrible attack.
"Not just on the Muslims in the seven countries directly affected so far but against Muslims as a whole – Muslims in Britain, Muslims in America, everywhere else.
"It's stoking up racism. It won't defeat terrorism, if anything it will increase the level of terrorism.
"I'm sickened by Trump and I think millions of people around the world are sickened by Trump by a whole range of his policies, but I was particularly sickened by this one and that's why we're here today."
Sabby Dhalu, from Stand Up To Racism, told the Evening Standard: "The people traveling to the US from the seven countries they have banned are fleeing terrorism, war and persecution but this is being forgotten in the midst of the racist hysteria that Trump has unleashed.
"The chosen target of attack is Muslims and Mexicans, but tomorrow it will be women, LGBT communities, Jews, trade unions and others.
"We call on everyone who stands against Trump's politics of hate to join us."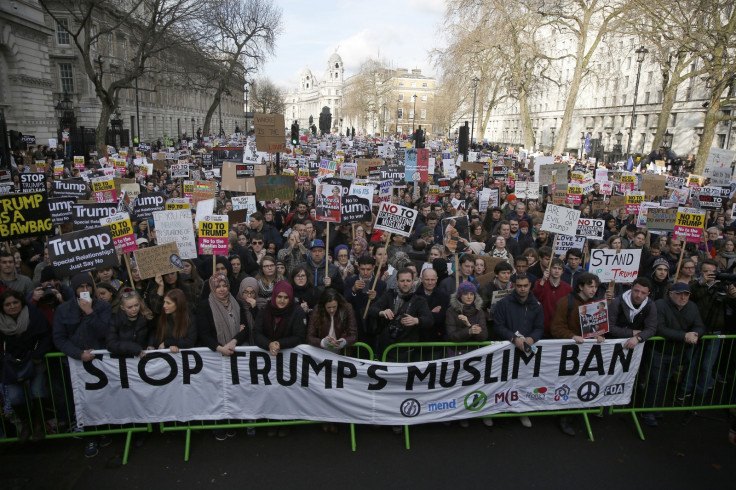 A video message from Labour leader Jeremy Corbyn has also been played, reported the Guardian. After apologising for not being able to attend, he said: "Let no one be in doubt that I will oppose and the Labour Party will oppose all those who fan the flames of fear at home and abroad.
"I support the demand of millions of people in Britain that Donald Trump should not be welcomed on a state visit to this country while he continues to propagate his anti-women, anti-Muslim and anti-Mexican policies."
He went on to say that Theresa May and the Tories "are on the wrong side of history".
Earlier in the day, a US federal judge issued an injunction ordering the travel ban to end. The Trump administration vowed to appeal the decision, while President Trump directly criticised the judge via Twitter.