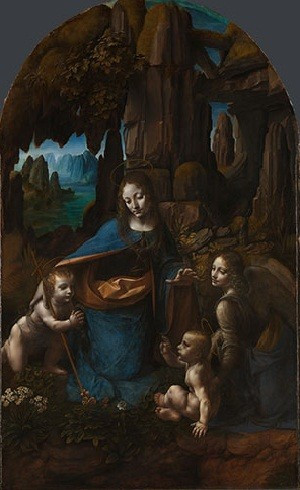 The National Gallery in London will display some of Leonardo da Vinci's rare surviving paintings, including the two versions of the Renaissance masterpiece "The Virgin of the Rocks."
In the first-ever-exhibition of its kind, "Leonardo da Vinci: Painter at the Court of Milan" will examine the multi-talented da Vinci's work particularly as an artist and his masterpieces produced during the late 1480s and 1490s.
During the exhibition, the two versions of da Vinci's work "The Virgin of the Rocks" belonging to the National Gallery and the Louvre Museum will be shown together for the first time. The mysterious painting shows the Virgin Mary, Jesus Christ, St. John, and an angel in a dark landscape, with a backdrop of mountains, caves and water.
The first version of "The Virgin of the Rocks", belonging to Louvre, was worked upon between 1483 and 1496 as an intense landscape study of the natural world. The National Gallery's version of "The Virgin of the Rocks" demonstrates a change in the artist's ambitions in the 1490s.
"I am quite sure that the experience of seeing these masterpieces juxtaposed will be one that none of us will ever forget, or that will ever be repeated," said Dr Nicholas Penny, Director, National Gallery.
Other Masterpieces
The exhibition would also feature the finest paintings and drawings by Leonardo and his followers including "La Belle Ferronière" (Musée du Louvre, Paris), the "Madonna Litta" (Hermitage, Saint Petersburg) and 'Saint Jerome' (Pinacoteca Vaticana, Rome).
In the last leg of the exhibition, a near-contemporary, full-scale copy of Leonardo's celebrated "Last Supper", would be on display which is on loan from the Royal Academy.
Take a look of the selected works from "Leonardo da Vinci: Painter at the Court of Milan".