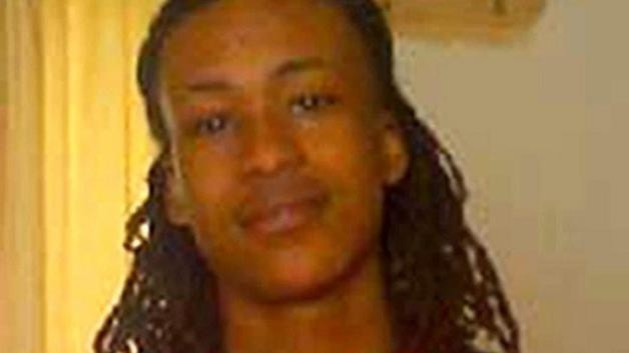 Violent lyrics bragging about gang life were written by the teenager who knifed to death schoolboy Negus McLean on a north London street, it has emerged in court.
Tershan Edwards' lyrics boasting about carrying weapons in public and threatening to stab victims in the neck were read out at his Old Bailey trial for murder.
Edwards was jailed for life for killing McLean, 15, in Enfield, in 2011.
The killing happened during a "postcode war" between the Get Money Gang, of which Edwards was a member, and Dem Africans, to which McLean was linked.
Both gangs were located on different sides of the same London borough.
Edwards' boastful lyrics showed how the 19-year-old was not living in the real world, said Judge John Bevan, who sentenced the teenager to life with a minimum of 19 years in jail.
"You feel able to operate in some sort of parallel universe in which robbery, theft, drugs and violence are acceptable," he told Edwards, of St Albans.
Also jailed were gang leader Brandon Hamilton, 18, Billal Lariba, 18, and Travis Bowman, 16.
Edwards' verse is part-confessional and partly a puffed-up imitation of violent gangsta-rap lyrics:
"GMG all day brudda that's the set/ When you come thru my hood better show some respect/ Or my little Youngaz will push a blade through your neck/ Stab a man up then ask who's next.
"When I ride out no gun just my samuri/ I'll chop him his head until he f****** dies/ They stabbed me up once but they can't stab me f****** twice/ Ima stab him in the back leave him f****** paralysed.
"Went way for a bit back with a f****** bang/ I'm gmg fam that's my f****** gang.
"She told me she knows the real me f*** this gang sh**/ I told her my life was full of pain so I bang sticks.
"I was only 12 years old when I got my first shift/ Only 13 when I started bunning on a spliff/ At 14 I tried to wisen up a little bit/ But at 15 I was with my shank on the strip.
"Riding around reckless I showed no respect/ If a n***** try diss we stab him in the neck.
"Thought all my n****** was real then I clocked fakes/ Thought all my n****** wouldn't tell then I clocked snakes/ Thought I could do what I want then I clocked jakes.
"Out come like they all, want me f****** dead/ Word is I got a lot of money on my head/ But that sh** make a man of me/ F*** the gang banging its all about family."