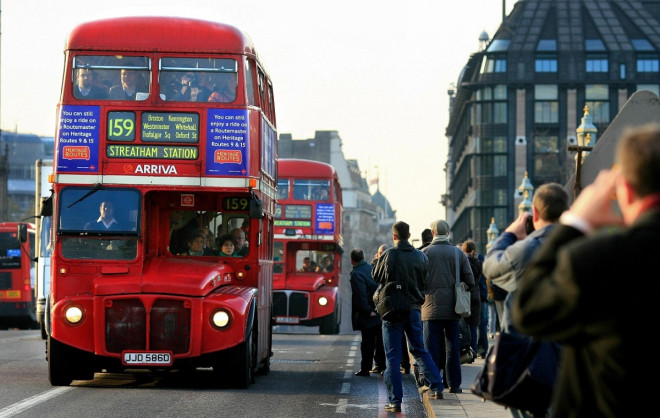 A fleet of Routemaster buses built in the swinging 60s has been drafted back into service to save Londoners from the misery of the tube strike.
Transport for London (TfL) has drafted in 40 of the vintage buses, which were manufactured between 1954 and 1968, after parts of the London Underground ground to a halt.
Several of the buses were offered up by private tour operators, who bought them after they were taken out of service in 2005 and now use them to provide novel transport for weddings and other functions.
The re-introduction of the buses might be a silver lining for nostalgic commuters whose journeys have been affected by the Rail, Maritime and Transport Workers Union walkout.
Eleventh-hour talks between the union and TfL to avert the strike broke down on Monday as the dispute over ticket office closures and the loss of 750 jobs continued.
A TfL spokesman told IBTimes UK: "We have 40 Routemaster buses in operation along various routes across London. They are some of the 7,961 buses that are in operation, 266 more than a normal day."
Strike Dates
All RMT members, excluding fleet staff, have been asked not to book on for any shifts that commence between:
2100 hours on Monday 28 April 2014 until 2059 hours on Wednesday 30 April 2014
2100 hours on Monday 5 May 2014 until 2059 hours on Thursday 8 May 2014
All RMT members employed in the fleet grades will be instructed not to book on for any shifts that commence between:
1830 hours on Monday 28 April 2014 until 1829 hours on Wednesday 30 April 2014
1830 hours on Monday 5 May 2014 until 1829 hours on Thursday 8 May 2014