Drops of rain trickle down the green minaret of the Fazl Mosque, nestled in a residential neighbourhood in the London borough of Wandsworth. The mosque and its surrounding buildings are the international headquarters of the Ahmadiyya Muslim Community, a religious movement originated in the Indian town of Qadian in 1889.
Dozens of worshippers salute Mirza Masroor Ahmad – the community's fifth Caliph and leader – as he enters a compound adjacent to the mosque, after leading the afternoon prayer.
"He is a very busy man, he reads and respond to hundreds of letters everyday and writes his own speeches," members of the community explain. The Caliph does not have an easy task: He leads one of the most persecuted religious communities in the world.

Ahmadi Muslims, or simply Ahmadis, believe the founder of their movement, Mirza Ghulam Ahmad, was the "Mahdi" – or Messiah– Muslims had been waiting for.
Ahmad, who died in 1908, sought to restore what he said was the truest form of Islam, claiming that the religion and society had deteriorated and needed "divinely inspired reforms".
His followers have continued his mission to disseminate core values at the heart of Islam, such as love and respect for all, around the world.
However, their message of peace and acceptance has been met with violence and disapproval by some members of mainstream Islam in several Muslim-majority countries. Ahmadis are regarded as infidels and heretics for believing that there was another prophet after Mohammed, considered to be the final prophet.
There are at least 10 million Ahmadi Muslims in 206 countries around the world, according to the community's official website. Of these, between two and five millions are in Pakistan, thought to be home to the largest Ahmadi community in the world.
But Pakistan is also the place where Ahmadis have been subjected to harsh persecutions. In 1974, the country introduced a bill declaring Ahmadis to be non-Muslims. A second bill in 1984 banned the group from calling their places of worship mosques, and from propagating their faith. In response, Ahmadis moved their global headquarters to London.
Some 86 people were killed during attacks at two mosques of the Ahmadi community in Lahore in 2010, in one of the worst attacks against Ahmadis in Pakistan to this date.
However, Ahmadi Muslims claim their persecution has stretched over to other countries, from Asia to the Middles East and Africa. It has also reached the UK,thought to be home of at least 30,000 people Ahmadis.
The persecution the group faces in the UK was highlighted in April 2016, when Ahmadi shopkeeper Asad Shah was killed in Glasgow after being accused of "disrespecting Islam".
Last year, an IBTimes UK investigation discovered that leaflets calling for Ahmadi Muslims to be killed had allegedly been distributed in universities, mosques and shopping centres in London, where an estimated 15,000 Ahmadis live.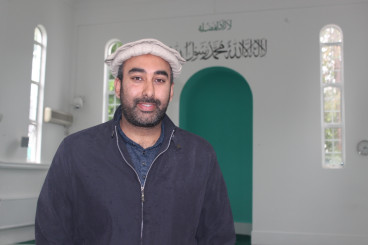 "We have been saying for a while, that there are elements here [in the UK] , who are from the extreme side," Farooq Aftab, General Secretary of the Ahmadiyya Muslim Youth Association UK, tells IBTimes UK.
"We have had incidents of verbal abuses, assaults, shopkeepers lost their job because they were Ahmadi. This is exactly what goes on in Pakistan, where Ahmadi children are segregated, they have to eat separately. In university campuses, they have to sleep in different dormitories."
Ahmadis hope that, one day, they will be accepted in those areas of the world where the right to profess their religion is still denied.
"People who don't think we are Muslims are entitled to their own point of view, but a line must be drawn because violence cannot be justified. We can disagree, but we have a right to freedom of religion," Aftab says.
How Ahmadis fight extremism
Ahmadis feel relatively safe in the UK, where they say they are free to practice their religion. They think authorities are "very good" at maintaining law and order. However, a rise in extremism, Islamophobia and hate crimes targeting religious groups remain a source of concern.
"This is not affecting just Ahmadis. We have seen this narrow-mindedness and extremism leading people to join organisations like Isis," Aftab explains. He then adds that no-one, from the Ahmadis in the UK, has been radicalised or joined an extremist group.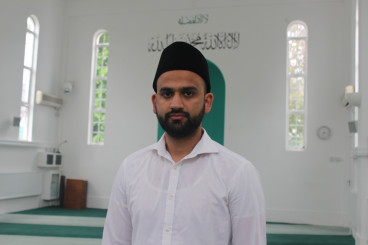 "Clearly, there is something in our message: We believe that we represent Islam in its true, pristine sense, " he says. "This is our Jihad, our struggle; To show the world that Islam is a religion of love and its scope is to serve humanity, Islam is not not what's shown on TV."
Farhad Ahmad, a 25-year-old Imam at Fazl Mosque, believes engaging youths in constructive and community-based activities is one of the main factors that can help tackle extremism. This is why, he says, there are hundreds of Ahmadi youth associations across the world.
"Youths have a lot of energy and some people might take advantage of it. Some youths are attracted by the concept of picking up a gun and waging a war, whereas our youths look forward to the idea of picking up a shovel and helping people affected by floods, for example," Ahmad, who became an Imam when he was 23, tells IBTimes UK.
"Youths as young as seven are involved in our activities. It is very important that they have a sense of direction and leadership from a very young age.The Quran says all types of Muslims can come together if they believe in the core principles of Islam and we have a system people aspire to," he concludes.
The Pakistan High Commission in London has not responded to a request for a comment for this article.