Here's an interesting situation: Let's say Donald Trump is US president and London's mayor wants to travel to America to brainstorm with New York City leaders about crime control. But he can't because Trump has banned all Muslims from entering the country.
"I want to go to America to meet with and engage with American mayors," said Sadiq Khan, 45, London's first-ever Muslim mayor. "If Donald Trump becomes the president I'll be stopped from going there by virtue of my faith, which means I can't engage with American mayors and swap ideas.
"Clearly," he adds in a wide-ranging interview with Time magazine, he plans to visit "before January in case Donald Trump wins."
But Khan, now the most powerful Muslim politician in Europe, is hopeful that Trump won't win, pointing to his own victory as a Labour candidate against Conservative opponent Zac Goldsmith, whom he had accused of using the "Trump playbook," of employing "fear and innuendo to try to turn different ethnic and religious groups against each other."
Conservative "tacticians thought those sort of tactics would win London and they were wrong," Khan told Time. "I'm confident that Donald Trump's approach to politics won't win in America.
"Hope, I think, is a good way of persuading people to vote for you, energize and enthuse people. To try and look for differences, to try and turn communities against each other is not conducive to living successfully and amicably," he explained.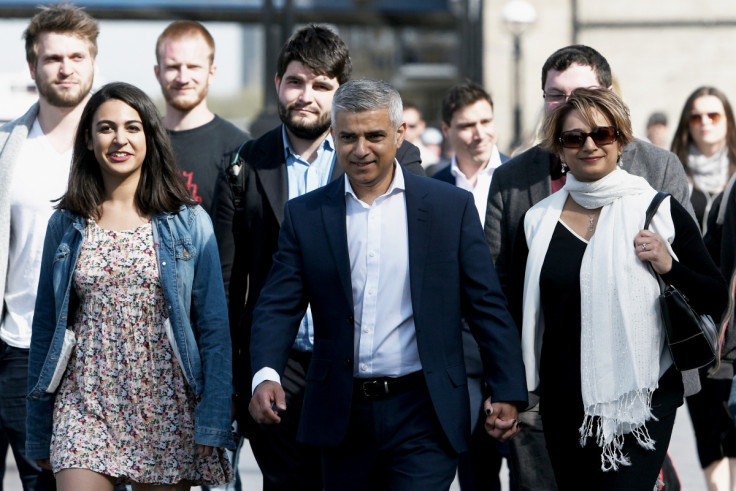 Khan managed to rebuff attacks during the campaign by Goldsmith, who attempted to link Khan to extremists in his work as a human rights attorney. In fact, Khan states that he aims to use his position to help "defeat radicalization and extremism."
"What I think the election showed was that actually there is no clash of civilization between Islam and the West," he explained. "I am the West, I am a Londoner, I'm British, I'm of Islamic faith, Asian origin, Pakistan heritage, so whether it's [ISIS] or these others who want to destroy our way of life and talk about the West, they're talking about me. What better antidote to the hatred they spew than someone like me being in this position?" he asks.
In December 2015 Donald Trump called for "a total and complete shutdown of Muslims entering the United States," and demanded the ban continue until officials can "figure out what the hell is going on." His campaign manager confirmed that the candidate meant "everybody," including immigrants, tourists and Muslim-American citizens currently abroad.
That same month British opposition members of Parliament called for Trump to be banned from entering the UK because of his hate speech. Prime Minister David Cameron rejected the demand, saying that while the comments were "divisive, stupid and wrong," they shouldn't stand in the way of Trump visiting the country, and that the candidate could serve to "unite" the country against him.