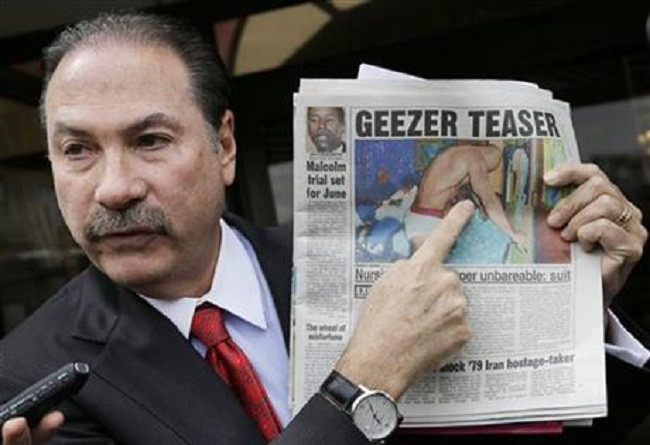 Franklin Youngblood is suing a Long Island nursing home after it allegedly hired a male stripper to entertain his 85-year-old mother who suffers from partial dementia.
The incident came to light when he found a lewd photograph in a newspaper of a half-naked man grinding against his mother, who was seen stuffing dollar bills into the dancer's pants.
According to a recent lawsuit, several residents at the East Neck Nursing Center in West Babylon were also present in the room, with one appearing to be in tears.
Key details of the case read: "Plaintiff Bernice Youngblood was placed in apprehension of imminent, offensive, physical harm, as she was confused and bewildered as to why a muscular, almost nude man, was approaching her and placing his body and limbs, over [her] and directing [her] to place her hands about and upon his body, including his genital area, without [her] consent."
It continued: "Hiring male strippers to perform for the defendant's nursing-home patients was a serial occurrence.
"Bernice Youngblood has lived 85 years as a traditional Baptist, hard-working, lady... And now she has been defiled."
Speaking at a news conference, Youngblood and his mother, who was in a wheelchair accompanied by her other relatives, said she felt "terrible" and "ashamed" about what had happened. But she could not recollect the whole incident.
When he confronted a nurse about the photograph he was told it was an "entertainment event" that was planned and scheduled by the home, and was done in "good faith", according to CBS News.
The woman's lawyer, John Ray told 1010 WINS: "He had a fistful of dollars in his hand and she was putting a dollar in his pants at his demand; he's leaning over her, he's not just standing there, he's intimidating her."
"This might be great for 32-year-old single girls, but this is an 85-year-old traditional, African-American woman," he added.
The lawsuit also stated the show was arranged "all for the perverse pleasure and enjoyment of the Defendant's staff", and "has breached its... duty of care by purchasing the services of male strippers and directing them to perform various sexually-related acts upon the facility's patients knowing that its patients did not have the physical or mental capacity to consent to such vile acts or defend themselves against such vile acts".
Howard Fensterman, the lawyer acting on behalf of the nursing home, said a 16-member resident committee had requested the September 2012 performance and the nursing home paid the $250 fee. The woman had the option not to attend.
"But in this instance these are adults who wanted to have this activity, they requested it, they voted on it and the nursing home approved of it," he said.
He added that the woman in question was brought down from her room by her daughter-in-law and enjoyed the event, an allegation the family denies.
The nursing home said on its website: "We will provide you or your loved one with an unsurpassed level of care that will nurture body, mind, and spirit.
"We honour the individuality, dignity, privacy, and safety of each individual with whom we have the pleasure of working, and we work closely with family members and caregivers to ensure that we stay focused on making everyone involved feel as confident, comfortable, and joyful as possible."