A look back at the life of Kirk Douglas as he celebrates his 100th birthday
IBTimes UK takes a pictorial look the 70-year film career of one of the last living legends of the Hollywood star system
American actor Kirk Douglas celebrates his 100th birthday on Friday 9 November. IBTimes UK takes a look back at his 70-year career on the silver screen.

Born Issur Danielovitch to Russian Jewish immigrants on 9 December 1916 in New York, he got the acting bug after appearing in school plays at St Lawrence University. He won a scholarship to the American Academy of Dramatic Arts in New York, where he met Betty Joan Perske – later known as Lauren Bacall.
He enlisted in the US Navy in 1941, shortly after the Japanese attack on Pearl Harbor plunged the country into World War Two. He married Bacall's friend Diana Dill on 2 November 1943, and they had two sons – Michael in 1944 and Joel in 1947 – before divorcing in 1951. Bacall helped him get his first film role, opposite Barbara Stanwyck in The Strange Love of Martha Ivers (1946). He soon became a Hollywood star, playing rough and rugged heroes in films such as The Big Trees and Champion (which gave him his first Oscar nomination).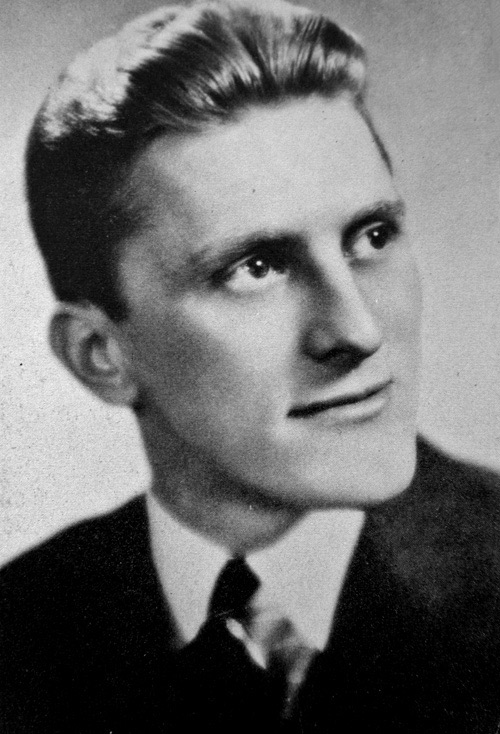 He earned further Oscar nominations in two Vincente Minnelli films, Lust for Life (in which he played Vincent van Gogh) and The Bad and the Beautiful. He met his second wife Anne while filming Lust for Life, and they married in 1954. They had two sons together, Peter and Eric.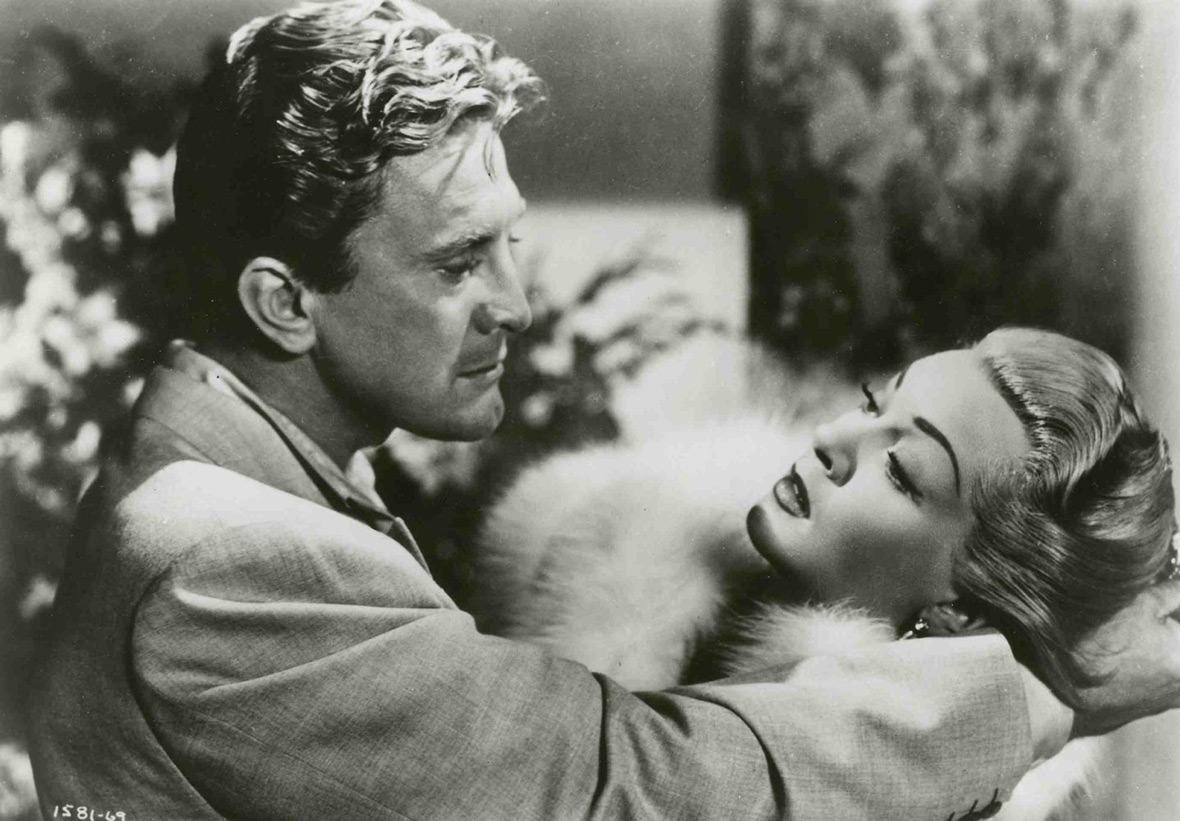 In 1960 came the film he is most remembered for: Spartacus. He played the title role in the big budget epic. He was also executive producer on the film, raising the $12 million production costs for one of the most expensive films ever made up to that time and choosing Stanley Kubrick to direct it. The screenplay was by Dalton Trumbo, who was on the Hollywood blacklist and secret writing scripts for major films. Douglas credited Trumbo on Spartacus, effectively ending the blacklist.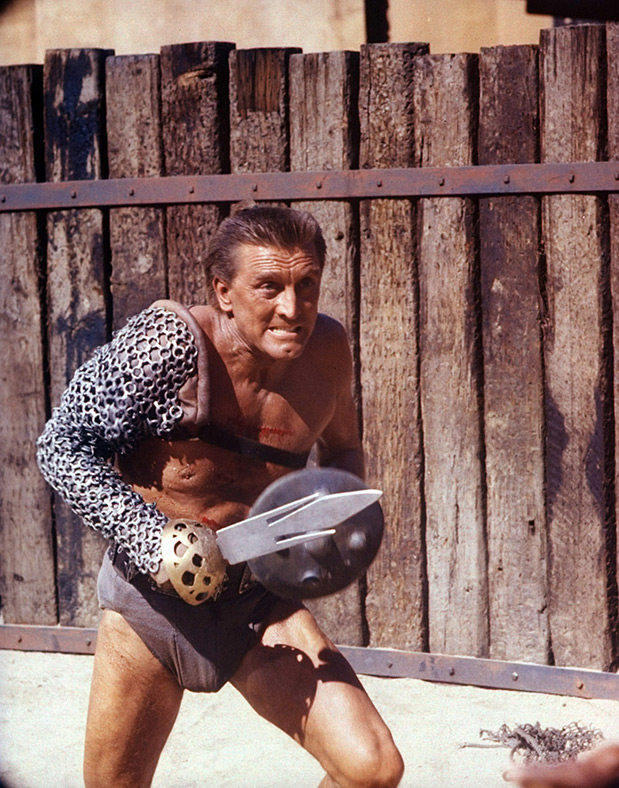 Douglas has appeared in 91 films and TV productions, including 20,000 Leagues Under the Sea, Heroes of Telemark and seven with his regular screen partner Burt Lancaster. From the 1970s onwards, Kirk and Anne Douglas became known for philanthropic works, travelling the world as goodwill ambassadors, flying to Cairo to speak with Egyptian president Anwar Sadat in 1980, rebuilding more than 400 school playgrounds and establishing a centre for homeless women in Los Angeles.
In 1996, Kirk Douglas suffered a severe stroke, which left him unable to speak. After months of speech therapy, he recovered enough to accept an honorary Oscar. He wrote about his health and his recovery in the book My Stroke of Luck. In 2003, he appeared in the film It Runs in the Family, along with his son Michael, Michael's son Cameron, and his first wife Diana Dill. His youngest son Eric died of an accidental drug overdose on 6 July 2004.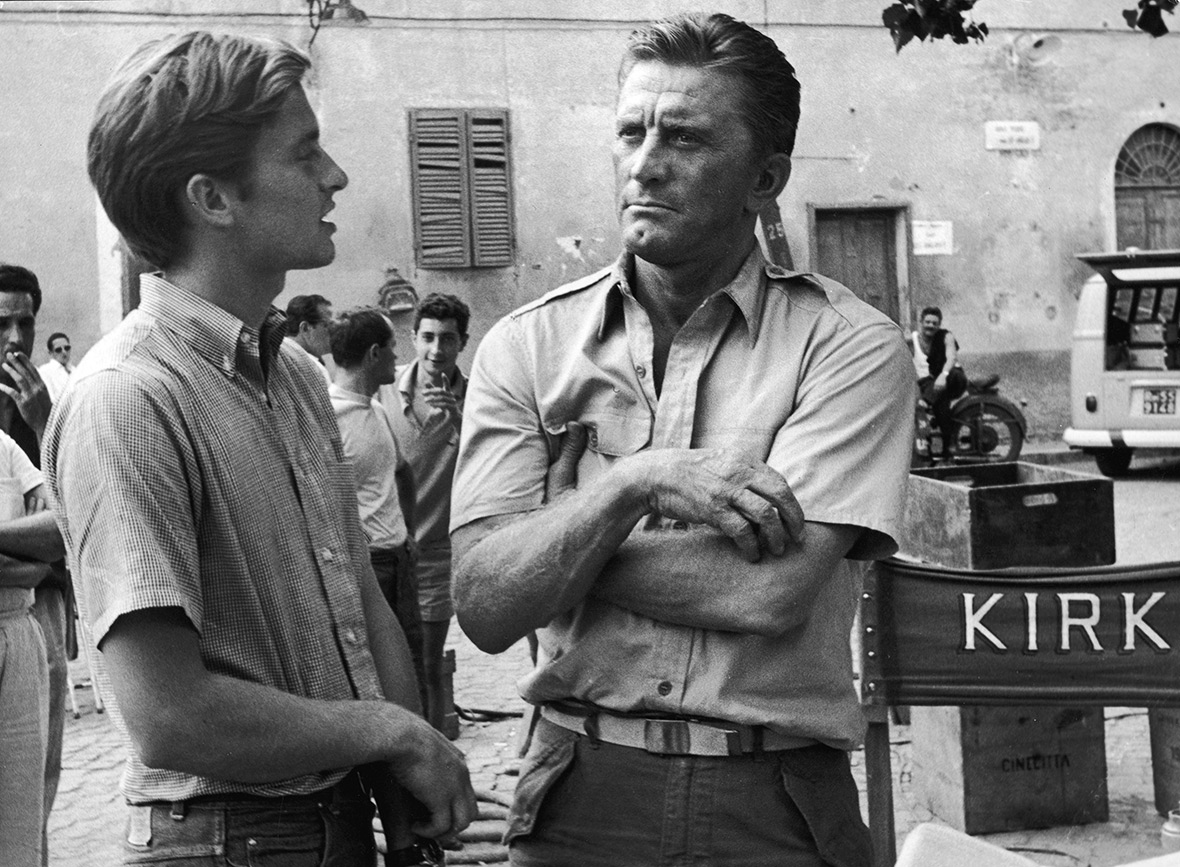 In his nineties, Douglas started blogging. He writes for the Huffington Post and is believed to be the world's oldest celebrity blogger. In his most recent post, written during the US Presidential election, he talks of the changes he has seen in 100 years – both positive and negative – and his fears that history is about to repeat itself.
"In my lifetime, American women won the right to vote, and one is finally the candidate of a major political party. An Irish-American Catholic became president. Perhaps, most incredibly, an African-American is our president today. Yet, I've also lived through the horrors of a Great Depression and two World Wars, the second of which was started by a man who promised that he would restore his country it to its former greatness. I was 16 when that man came to power in 1933. For almost a decade before his rise he was laughed at – not taken seriously. He was seen as a buffoon who couldn't possibly deceive an educated, civilised population with his nationalistic, hateful rhetoric. The 'experts' dismissed him as a joke. They were wrong."