"Human blood is both salty and sweet. If we didn't drink it, we'd have gone crazy," utters one man interviewed in The Look of Silence. As one of the perpetrators involved in Indonesia's mass anti-communist murders in the 1960s, he's a man speaking from experience.
Director Joshua Oppenheimer dazzled audiences when his previous documentary, The Act of Killing, was released in 2012. That movie focused on the executioners, with the surreal and nauseating twist of having them recreate the killings they committed in the style of their favourite film genres. This sequel of sorts instead examines the survivors of the massacre, and how families of victims today struggle to live side by side with those who killed their loved ones.
The film's protagonist is Adi, an optometrist who was born the year of the anti-communist purges. He lives a seemingly blissful life with his wife and two children, and is also in regular contact with his mother and father. And yet there is a hole in his life; an older brother called Ramli he never knew because he was one of those killed in a massacre of anti-communists at a place called Snake River.
What follows is a journey by Adi to find out more about what happened to his brother and why, using previously shot footage by Oppenheimer of the perpetrators talking about the killings to camera, followed by Adi revealing to them that his brother was one of people that they killed.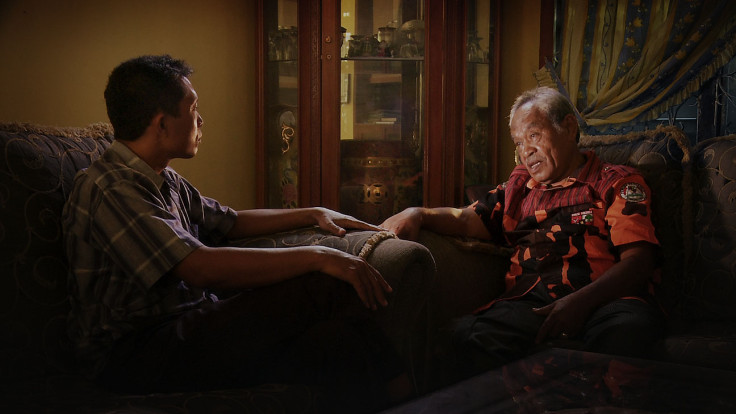 It's a simple premise, but it makes for startling cinema. The footage shot by Oppenheimer echoes The Act of Killing with the killers gruesomely boasting of how they carried out the massacre, some even using props and illustrations to explain in detail just how so many people met their grisly end.
In a country where communists are demonised as godless monsters and the killings are celebrated as a heroic event, such reactions come as no surprise. But as Adi notes whilst watching the footage, such detachment serves as a defence mechanism, dehumanising their victims to make their actions more palatable. The real reason why they didn't go crazy.
The film comes alive when Adi subsequently goes to speak to these murderers, revealing to them how his brother was one of their victims. It's both an unsettling and electric moment to capture on camera, watching the killers' react to being confronted with another perspective, something that jars with the lies they have taught themselves that highlights the personal cost of their actions.
This is deeply disturbing, eye-opening cinema about the horrors man is capable of and the lengths one will go to detach themselves from the realities of such horror. Whilst lacking the impact and imagination of The Act of Killing, there is a simmering tension and beating emotional heart that makes this movie every bit as necessary.