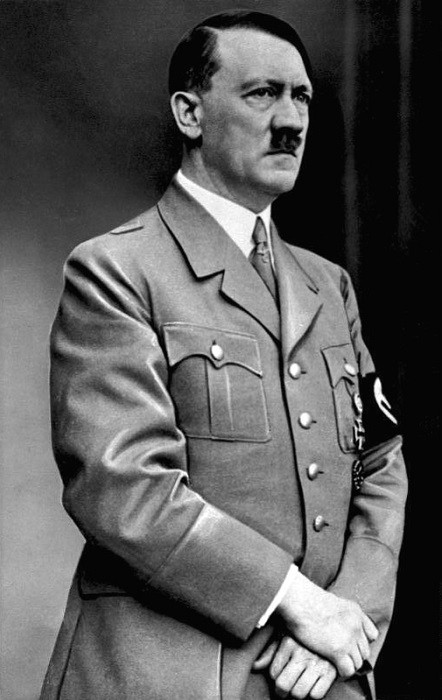 A best-selling German satirical novel about the return of Adolf Hitler has been translated into English.
Er Ist Wieder Da (Look Who's Back) will be published on 3 April 2014 by MacLehose press, London.
Look Who's Back, by Timur Vermes, features Hitler living in Berlin in 2011, with no memory of what happened during the Second World War.
The novel, narrated in the first person by Hitler himself, opens with the ex-Führer waking up in an empty space in the middle of Berlin, wondering why he is still alive.
Hitler interprets everything he sees in the 21st century from a Nazi perspective. He believes, for example, that the presence of Turks on Berlin's streets is a legacy of his successor Karl Doenitz's effort to bring Turkey into the war on Germany's side.
Although people recognise him, everybody thinks he is either a comedian, or a method actor.
As a result, Hitler is very upset and videos of his angry rants become successful on YouTube. He consequently achieves modern celebrity status as a comedian.
The book has topped the bestseller lists in Germany after its publication in 2012, and has sold over 1.3 million copies so far.
The novel will be translated in 28 other languages and is also to be adapted into a movie by film production company Constantin Film, which has planned to release Look Who's Back in German theatres in 2015.
Vermes' book received a generally positive critical reception.
Bookseller Ian Farnell described the idea to use Hitler to satirise modern standards as "unique, unorthodox and astounding."
According to MacLehose Press, " Look Who's Back is outrageously clever, outrageously funny – and outrageously plausible."
Despite its huge success, however, the novel has also been criticised, as some argued that it "trivialised" Hitler's crimes by making the reader laugh not at, but also with him.
Others have defined the book as a "mediocre joke that suddenly got successful."
Vermes defended his work saying that: "Books don't have to educate or turn people into better human beings – they can also just ask questions.
"If mine makes some readers realise that dictators aren't necessarily instantly recognisable as such, then I consider it a success.
"I want to show that Hitler would have a chance to succeed nowadays just as he did back then, just in another way," Vermes added.