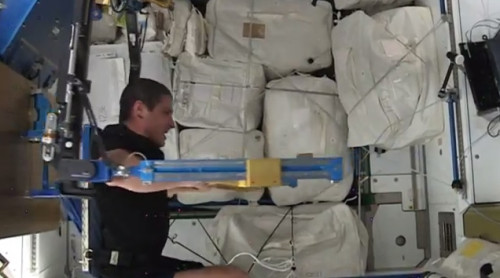 Looking to get fit but bored with your usual fitness regime? Then you might want to check out a workout that's literally out of this world.
Nasa astronauts Mike Hopkins and Rick Mastracchio will be working out live from space and sharing fitness tips on a special #TrainLikeMike Google+ Hangout event on Thursday 6 February at 5:15pm GMT.
Astronauts on the International Space Station have to work out for at least two hours a day in order to minimise bone and muscle loss, which is a side effect of spending an extended amount of time in a weightless environment.
There are three types of equipment available for the astronauts to use – a treadmill, a stationary exercise bicycle and the Advanced Resistive Exercise Device (ARED), a special machine on the space station that bears a passing resemblance to a weight lifting machine.
Hopkins, a lifelong fitness enthusiast who was once captain for his university football team, has already filmed one video where he attempts a challenging workout that features 100 pull-ups, 100 push-ups, 100 sit-ups and 100 air squats, using the ARED.
Together with some fitness experts based on earth including a professional American football player and an Olympic athlete, the astronauts will answer questions posted by viewers on Twitter and Google+ before and during the Hangout using the #askNASA hashtag.
You can also check out other workouts and fitness tips on the Train Like An Astronaut Facebook page.