Beleaguered welfare minister Lord Freud is under mounting pressure to make a personal statement on his remark at a party conference fringe meeting that some disabled workers were not worth the minimum wage.
The minister issued a statement offering his unreserved apology after the row erupted on Wednesday, but has made no public appearances amid Labour claims he has gone into hiding.
Shadow House of Commons leader Angela Eagle said the peer had been withdrawn from all his frontbench duties in the House of Lords and should not still be in his job.
The fact he had not been sacked demonstrated David Cameron's weakness, she said, adding that it proved the "nasty party" was back.
It appeared Freud had decided to keep away from the Lords and the media after the row and as demands grow for him to come before parliament to explain himself.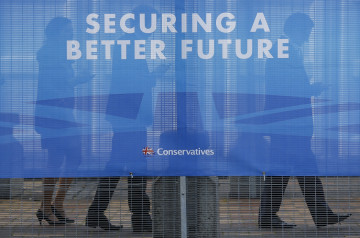 There are suspicions that party managers have told him to adopt the strategy as a way of shutting down the row, which saw Labour leader Ed Miliband dominating the first question time clash with the prime minister of the winter.
The hope is there will be no more revelations and, with nothing to keep the story going, the row will quickly blow itself out.
However, the minister will have to attend the Lords at some point and will then face all the demands for him to explain his actions. The danger is that the longer he delays appearing in public, the more the frustration and anger will grow.
Just to make matters worse for the prime minister, Labour sources are hinting they have other ammunition gathered from the Conservative party conference last month.
With literally hundreds of fringe meetings, receptions and party gatherings taking place at the annual rallies, there is always plenty of scope for embarrassing remarks or incidents to be picked up by the media or other parties, who routinely send people to their opponents' conferences.
For the moment, however, David Cameron's hope is that by depriving the Freud row of oxygen, it will quickly disappear from the news agenda.