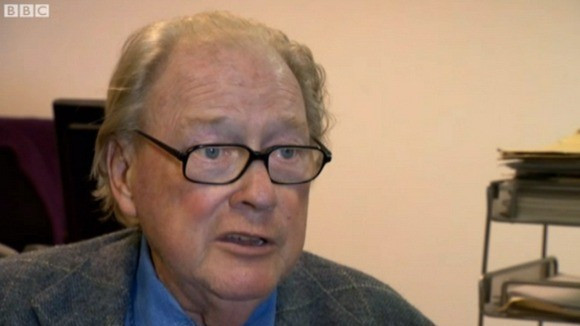 Lord McAlpine has said he will seek further payments from people who wrongly linked him to a paedophile ring after receiving a £185,000 settlement from the BBC.
After agreeing a settlement with the corporation for broadcasting a botched Newsnight investigation which falsely linked him to child abuse at the Bryn Estyn care home in North Wales, McAlpine's lawyers have said action is being prepared against ITV's This Morning and "a lot of people" who spread the falsehood on Twitter.
Sally Bercow has already become first person to receive a legal letter on behalf of McAlpine in regards to a tweet she sent two days after the Newsnight programme was aired.
The corporation said in a statement: "The BBC has agreed terms with Lord McAlpine to settle his claim of libel against the Corporation. The settlement is comprehensive and reflects the gravity of the allegations that were wrongly made."
McAlpine said: "I am delighted to have reached a quick and early settlement with the BBC. I have been conscious that any settlement will be paid by the licence fee-payers, and have taken that into account in reaching agreement with the BBC.
"We will now be continuing to seek settlements from other organisations that have published defamatory remarks and individuals who have used Twitter to defame me."
The peer said the damage of the Newsnight report "can't be repaired" and his name will be forever tarnished as a result of it.
McAlpine's solicitors, RMPI LLP, have said the terms of agreement of the BBC settlement will be announced in court.
In an interview for Radio 4's World At One, Lord McAlpine said the BBC could have saved "a lot of agonising and money" by simply calling him and giving him a right-of-reply before broadcasting the Newsnight programme.
He added: "I would have told them exactly what they learnt later on - that it was complete rubbish."
ITV director of television Peter Fincham confirmed he also received a letter on behalf of McAlpine's lawyers after This Morning's Phillip Schofield handed David Cameron a list of alleged Tory paedophiles live on air.
Elsewhere, broadcasting regulator Ofcom has confirmed it will launch an investigation into This Morning as well as BBC's Newsnight, following complaints by MP Rob Wilson.
McAlpine's solicitor Andrew Reid earlier warned the former Tory treasurer's accusers to come forward and apologise for falsely accusing the peer.
Reid told Radio 4: "We know who you are, we know exactly the extent of what you have done. It's easiest to come forward, because that is the cheapest and best way."
Bercow took to Twitter to respond to the news she would be receiving a legal letter for tweeting two days after the show was broadcast, Bercow tweeted: "Why is Lord McAlpine trending? *innocent face*".
Bercow later tweeted "*gulps*" as the news broke, but the comment was later deleted.
She then tweeted to her 50,000+ followers: "Thanks for phone calls/texts/tweets. I guess I'd better get some legal advice then. Still maintain was not a libellous tweet - just foolish".