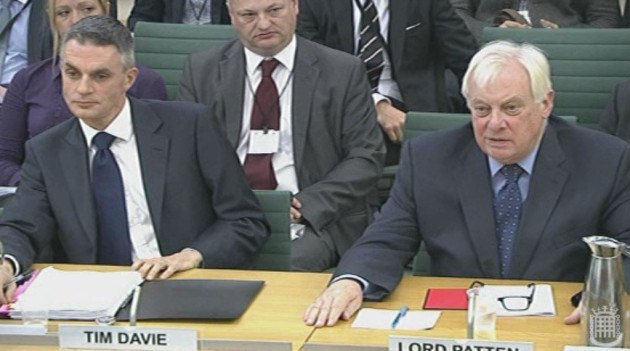 Chairman of the BBC Trust Lord Patten has defended the corporation's £450,000 pay-off to its former director general George Entwistle, but admitted he asked for more.
Patten also said the BBC and its license payers will have to pay for the costs of the two Jimmy Savile investigations, with the Pollard Inquiry into a shelved Newsnight report into allegations of child abuse against Savile already costing £200,000 in legal advice.
A second review led by Dame Janet Smith, looking at the culture and practices of the BBC during the Savile era could take much longer.
Patten told the committee that he couldn't estimate how much the two inquiries will cost. He said, ''I am afraid we must bear the costs, however much they are."
Following the resignation of Entwistle after the broadcast of a Newsnight investigation which wrongly linked Lord McAlpine to child abuse, Patten said the former director general had originally asked for more money following his 54 days in charge.
Patten agreed to pay Entwistle a full year's salary - double more than he was contractually obliged too - following his resignation. Sacking him could have cost more if Entwistle won a claim for unfair dismissal.
Patten told the committee he discussed his decision with Entwistle by telling him: "We are not urging you to go, but we are not urging you to stay."
Patten said Entwistle and his lawyers had negotiated feverishly but the former director general said he would not go for less and 12 month's pay, described by Patten as "one hell of a lot of money".
He added some of the former director general's pay-off could still be clawed back if he is found guilty of wrongdoing following the release of the Pollard Inquiry before the end of the year.
He added: "The idea that I did not understand how politically difficult it would be suggests a degree of political innocence on my part which I have to tell you does not exist. But the options I had were absolutely clear.
"We either had to deal with it quickly there and then, broadly speaking on the terms of 12 months, though that was less than we were asking for, or we had to go to constructive dismissal and constructive dismissal would have landed us with exactly the same amount of money, plus almost certainly another £80,000 of unfair dismissal."
Patten said he refused to "trash a decent man", but concluded he had been overwhelmed by the series of failures at the BBC which occurred just a few weeks into his appointment.
He added that he "wondered by the end of it how much his heart was in it. I think he found the whole thing an appalling experience."
Patten said there had been appalling editorial judgment. "The journalism, to be polite, was shoddy," he said.
"I am sure, as a result of this third self-destructive piece of journalism in 25 years, we will want to look at how we can ensure there is belt and braces in charge of the news without abandoning or resigning from investigative journalism," he said.
"I think that's a very, very difficult decision for any newspaper or a broadcaster. This was a terribly elementary journalistic failure and the easiest thing is for some people to reach for governance and a lot of people get their thrills from discussion about governance. It's always slightly passed me by."