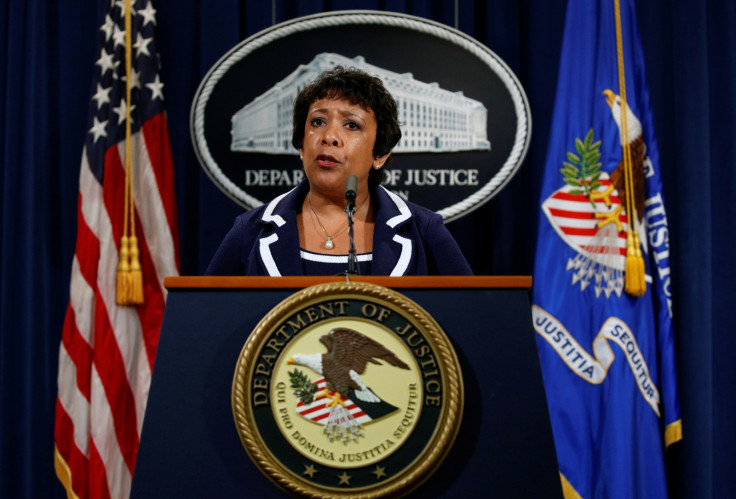 US Attorney General Loretta Lynch has said she regrets meeting Bill Clinton aboard a private plane at Phoenix Sky Harbor International Airport, Arizona in June.
The 45-minute meeting between the pair came at a time where Hillary Clinton was under federal investigation over her use of a private email server when she was secretary of state.
The encounter between Lynch and the former president sparked criticism from Republicans and some Democrats, who said it "cast a shadow" over the Justice Department's (DoJ) probe. It came just days before FBI Director James Comey announced that he would not recommend charges against the then Democratic candidate. The FBI is an agency of the DoJ.
"I do regret sitting down and having a conversation with him [Bill Clinton], because it did give people concern," Lynch told CNN's Jake Tapper on Sunday (18 December). "And as I said, my greatest concern has always been making sure that people understand that the Department of Justice works in a way that is independent and looks at everybody equally."
"And when you do something that gives people a reason to think differently, that's a problem," Lynch added. "It was a problem for me. It was painful for me, and so I felt it was important to clarify it as quickly and as clearly and as cleanly as possible."
Lynch insisted that there was nothing inappropriate in her meeting with Bill Clinton, saying they discussed Britain's decision to leave the EU following the historic referendum. "Brexit was the news of the day. There had just been a vote there," she said. "And as I indicated, we were told that President Clinton just wanted to say hello."
She added: "It was a very cordial discussion, as I said. Didn't have anything to do with the investigation or how it was going to be resolved."
Lynch's meeting with Clinton provoked a strong backlash, with Donald Trump claiming the system is "rigged". He tweeted: "Crooked Hillary Clinton knew that her husband wanted to meet with the USAG to work out a deal. The system is totally rigged & corrupt!"
While Lynch maintained that while her time with Clinton was "innocuous", she recognised that it "did give people concern." She said: "It did make people wonder is it going to affect the investigation that's going on, and that's not something that was an unreasonable question for anyone to ask."