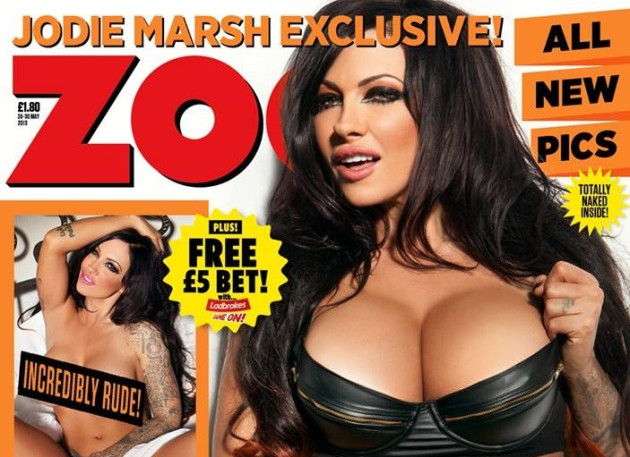 Lads' mags such as Zoo, Nuts, FHM, Loaded and Front could put newsagents and supermarkets in line for legal action for breaching the Equality Act 2010, according to a new campaign to clean up the top shelf.
The Lose the Lads' Mags campaign, launched by UK Feminista and Object, has won the backing of a group of prominent lawyers who have written in an open letter to the Guardian that every shop that stocks pornographic material breaches legislation by exposing staff and customers to these images.
Aileen McColgan, a barrister at Matrix Chambers, said: "Workers and those who access goods and services are protected under the Equality Act not only from sex discrimination but also from sexual harassment which consists of unwanted conduct which is either related to sex or which is of a sexual nature, which has the purpose or effect of violating [the complainant's] dignity or creating an intimidating, hostile, degrading, humiliating or offensive environment."
The campaign is focused primarily on the big four supermarkets - Tesco, Sainsbury's, Morrison's and Asda - and newsagent chain WHSmith, all of which stock lads' mags.
Kat Banyard, director of UK Feminista, a project that supports and promotes gender equality, told IBTimes UK: "We've had a great reception with lots of interest and support. These magazines have been criticised for many years through groups like Mumsnet for sending out damaging messages but people felt powerless about it."
Banyard explained that the main aim of the campaign was to make people and retailers aware of the law.
Dehumanised sex objects
"People haven't known their legal rights. The point of the campaign is to make people aware of their rights and empowering them take action," she said. "Retailers now know they will be held to account.
"We haven't heard back [from any retailers] yet but we're keen to establish a dialogue - to support retailers and work with them.
"I have an independent newsagent near me who refuses to stock magazines with pornographic images, so you have examples of good retailers who take action. But no shop is forced - it is entirely Tesco's choice to sell lads' mags. What message does it send out to treat women as dehumanised sex objects?
"Lads' magazines have had an easy ride for years and they've realised they're potentially coming up against legislation."
Both Bauer Media's Zoo and IPC Media's Nuts refused to comment on the Lose the Lads' Mags campaign when contacted by IBTimes UK. Loaded and Front also had no statement.
Legally, if the magazines were to stop images that treat women as sex objects on their covers they would not be breaking the Equality Act.
Sophie Bennett, campaigns officer for human rights organisation Object, said: "Lads' mags dehumanise and objectify women, promoting harmful attitudes that underpin discrimination and violence against women and girls.
"Reducing women to sex objects sends out an incredibly dangerous message that women are constantly sexually available and displaying these publications in everyday spaces normalises this sexism."