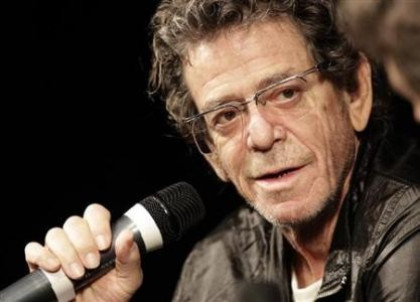 Lou Reed's widow and his sister have been named as the sole benefactors of his estate.
The will of the 71-year-old rocker was filed for probate in Manhattan Surrogate's Court following his death.
According to the legal papers, Reed left the bulk of his $15m (£9.3m) fortune to his wife, performance artist Laurie Anderson.
She was given his Manhattan penthouse, their $1.5 million East Hampton home, his touring company as well as all his personal property, including jewellery, clothing, art, cars, and boats. She also received 75% of his estate.
The remaining quarter of his estate was bequeathed to his only sibling Margaret Reed Weiner, 66. He also left her an additional $500,000 (£333,330) for the care of their 93-year-old mother.
Reed wrote in his will: "It is my hope and desire, without imposing any legal obligation, that my sister will use a portion of this cash bequest to help care for our mother, Toby Reed, for the balance of her life."
When Anderson dies the estate will be transferred to Weiner and her three children. The musician and his wife did not have any children of their own.
Reed's lawyer, James Purdy, told the New York Post: "It all stays in the family."
His business manager and accountant, Robert Gotterer and David Gotterer, have been named trustees of the estate and have been given the task of collecting royalties and securing copyrights and licences relating to Reed's music and poetry.
The former Velvet Underground frontman, whose hits include Walk on the Wild Side and Sweet Jane, died at his New York home after losing his year-long battle with liver disease.