Leeds United manager Neil Warnock says discussions over Luciano Becchio's future at the club are ongoing.
The Argentine striker, who has scored 15 Championship goals this season, has been linked with a move to Wigan Athletic and Hull City in the January transfer window.
Becchio has 18 months to run on his current contract at Elland Road and having yet to agree an extension to his deal, Warnock admits his future at Leeds is still in jeopardy.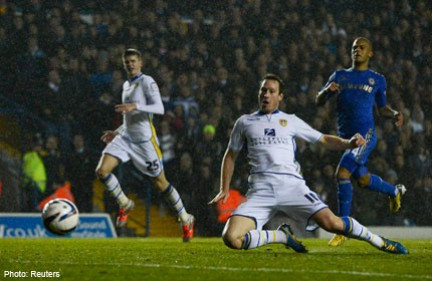 "I've spoken to him but there's only so much you can say," said Warnock. "No doubt we'll be speaking over the next 10 days to him or his agent.
"We want Luciano to stay and that's our prerogative and he's got 18 months left. We're not the ones turning his head so we'll have to wait and see what his head's like.
"That's the answer - on the field of play. Only the next couple of weeks will tell us.
"Once the deadline's gone I'm not bothered because he'll get down to it and be back to normal. It's just that the heads get turned and you can't stop that. It's a nightmare scenario."
Having been left out of Leeds' FA Cup replay against Birmingham City due to illness, Becchio was spotted in the crowd during Wigan's win over Bournemouth on the same evening.
Latics boss Roberto Martinez was unaware of the Leeds striker's presence, but has dismissed speculation linking the club with a move for The Championship hitman.
"I don't think so. If he was I didn't know about it," Martinez said.
"We are looking for the right player, somebody that can help us. But the focus is on the players we already have here.
"I will never go into a position of mentioning names of other players that are involved with other football clubs.
"I don't think it is respectful. I don't like it when people do it about our players in the middle of a season and I would never do that."
As one of the clubs longest serving players and top scorer, Leeds' hopes of bridging the gap to the play-off places during the remainder of the season will be dictated by Becchio's decision on his future.