A lucky Arsenal fan will be going to watch his team in the FA Cup final against Aston Villa at Wembley on Saturday 30 May - after two tickets fell on to an East Sussex village from the edge of space.
The Football Association sent the two tickets skyward aboard a specially tailored hot air weather balloon launched from the centre circle at Wembley Stadium at 06:00 BST this morning. The FA, which had to obtain permission for the stunt from the Civil Aviation Authority, traced the movement of the balloon using GPS technology.
After reaching an estimated altitude of 29,000ft - about the height of Everest - and encountering temperatures of -50C, the balloon popped and the two tickets slowly glided back to earth attached to a parachute, hovering over Tunbridge Wells for a while before floating on.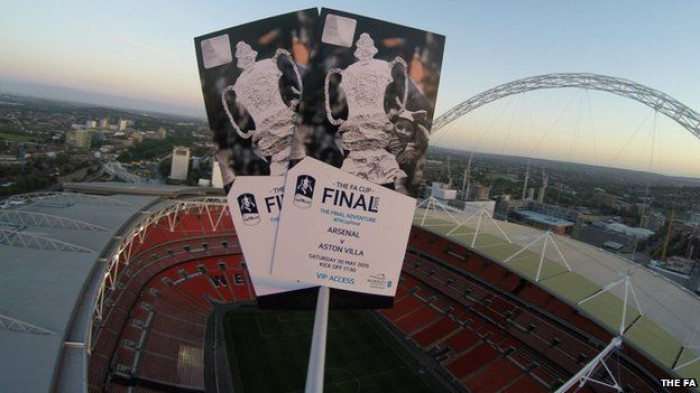 The tickets finally landed in the East Sussex village of Broad Oak at about 09:30 BST where they were found by the grandmother of 19-year-old Gunners fan George Lamb, who is celebrating his birthday on Thursday.
"When I woke up this morning the idea of going to the FA Cup Final hadn't crossed my mind," said George.
"Now, thanks to my grandma finding the tickets, I'm going on the ultimate adventure to Wembley on Saturday, although I'm sure the tickets' adventure to space is certainly a close second! This will be my first time to Wembley and I've got butterflies at the prospect of it."
FA spokeswoman Lucy Roberts-Hartley said: "This season's competition has truly been one to remember on and off the pitch. Sending the final pair of tickets into space is a great way to finish the off-pitch adventure, we hope George enjoys an out-of-this-world match on Saturday."