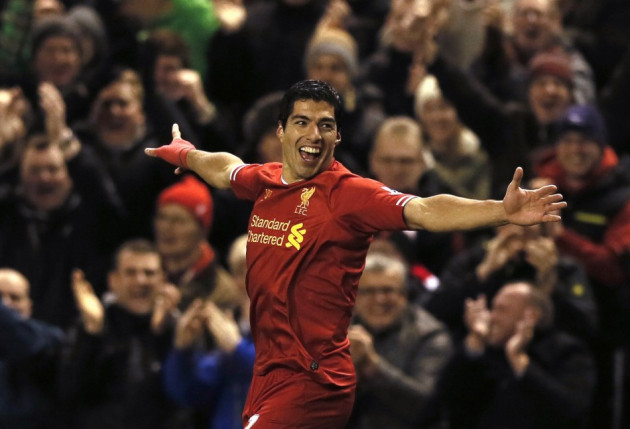 Liverpool star Luis Suarez has assured supporters that he will stay in Anfield until the end of the season.
The Uruguayan is currently enjoying his best spell since arriving to England and many European teams are interested in signing the prolific striker -including Spanish giants Real Madrid.
Last summer he was heavy linked with a move to Arsenal but finally he decided to stay at Anfield and now he looks happier than ever after scoring four goals in his last game against Norwich.
And after his impressive showing he made it clear that he would not be leaving the club in January.
"I will continue at Liverpool until the end of the season. When I'm happy off the pitch you can feel also inside. I'm happy in the Premier League; it's the best tournament in the world," Suarez told Spanish newspaper Marca.
Suarez's next target is to help Liverpool finish in the top four and qualify for next season's Champions League.
"The main thing is that Liverpool finish in the top four as it will be the first time in a while. I will help the team to get it."
After msising the first five games of the season due to suspension, the Liverpool star has gone on to score 13 goals in just nine matches becoming the top scorer in England, two ahead of Manchester City's Sergio Agüero.
"Luckily I'm scoring many goals to retrieve the games I missed. I have confidence and I am helping the team," he added.
The 26 year old striker became the first player in Premier League history to score three hat-tricks against the same team, inspiring his side to a 5-1 victory against Norwich City.
Manager Brendan Rodgers compared him with Cristiano Ronaldo and Lionel Messi but Suarez does not believe he is on the same level and does not think he is in the running to win the Ballon d´Or.
"Winning the Ballon d'Or is impossible now with the stars that there are today, they are on another level," explained Suarez. "I think it is a very far dream. I appreciate the compliments, but my colleagues are great"