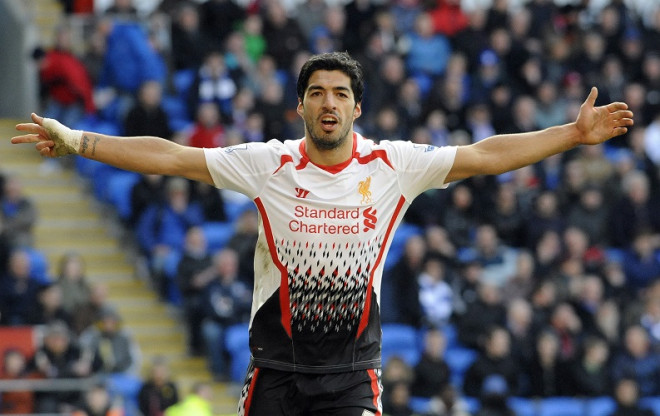 Luis Suarez has been named the most influential player in Europe after pipping Cristiano Ronaldo and Lionel Messi to the top spot of an annual study.
The Liverpool striker, who scored 31 goals last season, the same number as Ronaldo and the joint highest in Europe, was rated 86.02 out of a possible 100.
Barcelona foward Messi and third-placed Zlatan Imbrahimovich scored 85.43 and 84.91 respectively.
Roma midfielder, and Manchester United target, Kevin Strootman completed the top five with a score of 81.86.
The Bloomberg Sports rankings evaluated players based on their playing positions and takes performances in each game throughout the season.
The analysis covered more than 100 types of player actions, leading to about 1,000 to 1,500 data points for each player per match. The data then generates a BSports Rating out of 100.
Premier League champions Manchester City are represented by four players, the most from any English side, with David Silva, Yaya Toure, Joe Hart and Martin Demichelis.
Southampton, whose style of football under Mauricio Pochettino was praised last season, have three players -- Dejan Lovren, Jose Fonte and Rickie Lambert -- on the list.
Despite finishing his club's top scorer, Manchester United's Wayne Rooney finished a lowly 48th.
Power List top 10

Lionel Messi finished just 0.59 points behind Luis Suarez in the rankings

1 Luis Suarez (Liverpool, 86.02)
2 Lionel Messi (Barcelona, 85.43)
3 Zlatan Ibrahimovic (PSG, 84.91)
4 Cristiano Ronaldo (Real Madrid, 84.59)
5 Kevin Strootman (Roma, 81.86)
6 Diego Costa (Atletico Madrid, 81.68)
7 Mehdi Benatia (Roma, 81.30)
8 Robert Lewandowski (Dortmund, 81.21)
9 Tiago (Atletico Madrid, 80.79)
10 David Silva (Manchester City, 80.79)
Top five players: Suarez, Messi, Ibrahimovic, Ronaldo, Strootman
Most represented leagues: Serie A (14), Premier League (13), La Liga (12), Bundesliga (6), Ligue 1 (5)
Most represented clubs: Atlético de Madrid (8), AS Roma (7), Juventus (7), Manchester City (4)
Most represented nationalities: Italian (7), English (5), Spanish (5), Brazilian (5), French (4)
Bill Squadron, president of Bloomberg Sports, which conducted the study, said: "The Power 50 index stirred healthy debate among fans and experts during its inaugural year, demonstrating a clear appetite from fans across the globe for advanced football analytics. This index, evaluating players purely from the data, has become a reliable measuring stick for player performance in the minds of the fans."