The Lumia Cyan update has now begun seeding for Nokia's large screen smartphone, Lumia 1320.
As the Nokia global software page suggests, the Lumia Cyan firmware featuring Windows Phone 8.1 is now available for several countries in Europe, Asia, Africa, Middle East and Latin American regions.
This appears to be a mass rollout with a number of countries receiving update, reports WPcentral. Meanwhile, several users from India and UK have confirmed the update.
Following are the countries, which are getting the Lumia Cyan update. Note that 'CV' stands for Country Variant.
Africa: Algeria CV, Egypt CV, Ghana CV, Kenya CV, Libya CV, Morocco CV, Nigeria CV, South Africa CV and Vodacom, Tanzania CV, Tunisia CV, Uganda CV and Zambia CV
Asia Pacific: Hong Kong CV, India CV, Indonesia (Erajaya, Parastar and Trikomsel), Malaysia CV, Philippine CV (Globe Telecom), Singapore CV, Taiwan CHT, Thailand CV and Vietnam CV
Europe: Albania CV, Austria CV, Bosnia and Herzegovina CV, Bulgaria CV, Croatia CV, Cyprus CV, Czech Republic CV, Denmark CV, Estonia CV, Finland CV, Germany CV (Vodafone), Greece CV (T-Mobile), Hungary CV, Iceland CV, Italy CV (TIM, Vodafone), Lithuania CV, Macedonia CV, Montenegro CV, Norway CV, Poland CV (T-Mobile), Romania CV, Serbia CV, Slovakia CV, Slovenia CV, Span (JazzTel, Vodafone), Sweden CV and Switzerland CV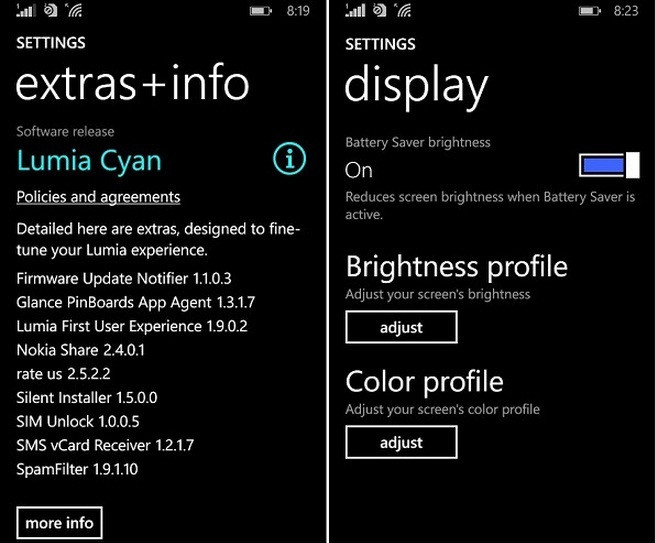 Latin America: Argentina Movistar, Brazil CV, Chile Movistar, Columbia Movistar, Costa Rica Movistar, Ecuador Movistar, EI Salvador Movistar, Guatemala Movistar, Mexico Movistar and Telcel, Nicaragua Movistar, Peru Movistar, Uruguay Movistar and Venezuela Movistar
Middle East: Bahrain CV, Iraq CV, Jordan CV, Kuwait CV, Lebanon CV, Oman CV, Pakistan CV, Palestinian Territories CV, Qatar CV, Saudi Arabia CV, UAE CV and Yemen CV
Those who own Lumia 1320, navigate to Settings>> Phone Update to download and install the update manually.
Also, those who are running on Windows Phone 8.1 Preview for Developers version should first downgrade to Windows Phone 8 to install the Lumia Cyan update.