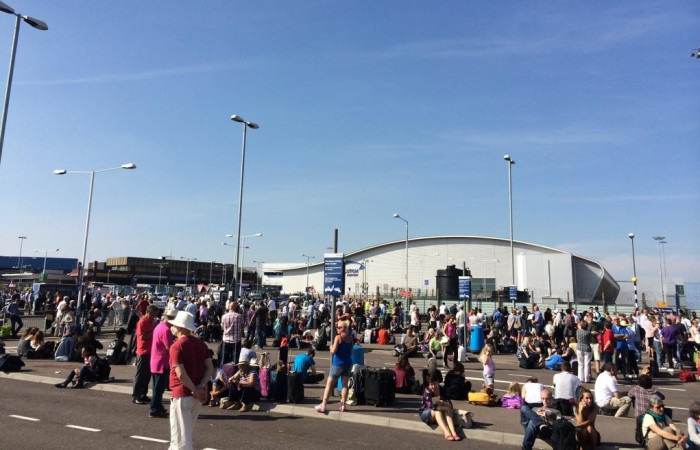 London Luton Airport has been evacuated and incoming flights cancelled after a suspicious package was found.
The airport confirmed passengers have been evacuated from the terminal building due to a security alert.
All incoming flights have been suspended and the approach road to the airport has also been closed.
Amid the "chaotic" scenes, flights have been diverted 50miles away to Stanstead airport while a bomb disposal unit arrived at London Luton and deployed a robot to investigate the package.
Flight that were ready to board with passengers that had cleared security were able to depart, while staff have handed bottles of water to passengers stranded outside the airport.
Passengers are advised to contact their airlines to establish the status of their flights.
A statement on the airport's website said: "London Luton Airport has evacuated the terminal building after a suspicious item was found in the security search area.
"The decision has been taken with the police to ensure the safety and security of passengers and staff.
"We understand passengers will be frustrated by the delays they are experiencing. We are working closely with the police to ensure passengers are not inconvenienced unnecessarily but we must ensure that the safety and security of all our passengers and staff remains our top priority.
"We are advising passengers to contact their airlines for information about specific flights and will provide a further update as soon as we are able."
A statement from easyJet, which operates at London Luton Airport, said: "Six Easyjet flights scheduled to land at London Luton Airport have been diverted – four to Stansted airport, one to Birmingham airport and one to London Southend airport.
"All passengers will be coached to Luton. The airline has also cancelled 12 flight sectors as a result of the closure of the airport."