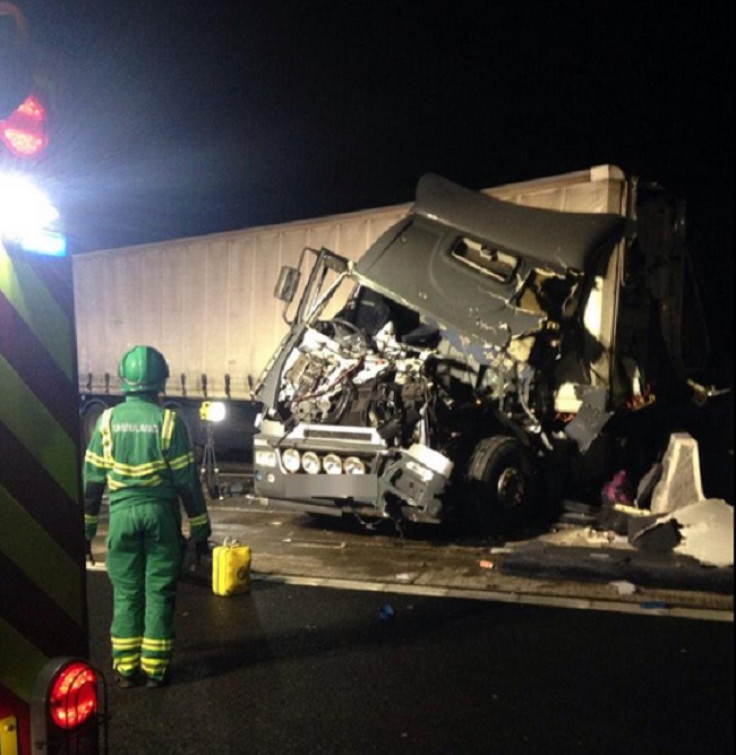 One person has died and several people were trapped in their vehicles after a multiple crash on the M25 near Waltham Abbey this morning.
The 39-year-old victim, believed to be from Leicester, was pronounced dead at the scene after an HGV crossed over the central barrier into the opposite side of the motorway and collided with three lorries and a Peugeot car between junctions 26 and 27 around 0200 GMT.
Four other people remain in hospital for treatment for their injuries, which are not believed to be life-threatening.
Chief inspector Jonathan Baldwin, of Essex Police, said it was a "catastrophic scene of carnage" and said the road would not open for some time while investigations were carried out and the damaged vehicles were recovered.
The M25 currently remains closed between junctions 25 and 27 while clean up and repair work continue.
A Highways Agency spokesman said: "We are working hard alongside Essex Police to get the road reopened as quickly as possible, and thanks TfL for support with the diversion route."
Inspector Dick Thomas from Essex Police said: "At this time, we have one confirmed fatality and a number of people who are trapped in their vehicles.
"There is debris across both sides of the M25 and the motorway will be closed for the foreseeable future, while we deal with this collision and begin our investigations to establish what has happened.
"Nothing will be moving around this portion of the M25 for some considerable time, and the morning rush hour is likely to be affected."
Clockwise traffic is being diverted off at junctions 23 and 25, and will return to the M25 at junction 27 via the North Circular (A406), and traffic travelling anticlockwise is being diverted off at junction 27 to return at junction 26.