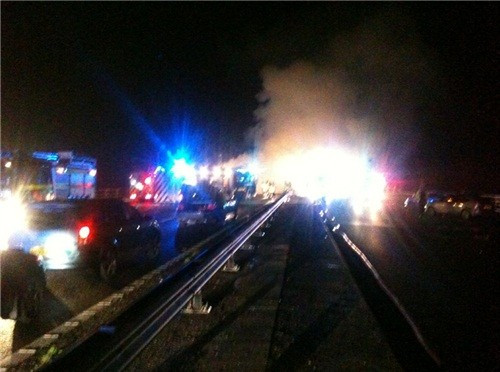 Friday Nov. 4's massive motorway crash on the M5 near Taunton is the latest tragedy to hit Britain's crowded road network.
Seven people died and 51 were injured after it's thought thick black smoke or fog clouded drivers' vision, causing one of Britain's biggest traffic disasters.
Huge fireballs broke out as vehicles blazed, leaving passers-by on the opposite side of the road stunned.
The British government is currently considering raising the speed limit on motorways from 70mph to 80mph. While this has been welcomed by the motoring lobby, others say this will increase the amount of casualties on the roads, as well as increase emissions and costs for drivers.
Multi-vehicle collisions generally occur on high capacity and high speed routes and are one of the deadliest forms of traffic accident.
Major pile-ups on Britain's roads include;
March 1991 - A 51 car smash on the M4 near Hungerford when a driver, who fell asleep at the wheel, crashed into the central reservation and blocked off the overtaking lane.Ten people died and 25 were injured as cars and articulated lorries ploughed into each other, as patchy fog made it hard for drivers heading towards the carnage to see the impending danger. Several drivers on the other side of the road were involved in minor accidents themselves after being distracted by the initial crash.
November 1993 - Twelve children and their teacher when a minibus transporting them home from a concert in London drove into a motorway services vehicle on the M40 near Warwick. Ten children died at the scene, two died in hospital, while two survived with minor injuries. Their teacher, Eleanor Fry, also died at the scene.The terrible accident resulted in the creation of the Belt Up School Kids campaign, after it was found the minibus was not fitted with seatbelts as it was not required by the law.
March1997- Incredible 160 vehicles were involved in a crash on the M42 after a lorry smashed into the back of a tanker when it came off of a slip road and onto the motorway. 100 people were injured and three people were killed. Dense fog had been an aggravating factor. David Fairclough, who was driving the lorry, was sentenced to three months in prison for dangerous driving.
December 2009 - M27 motorway 20 vehicles involved in a pile up westbound at Rownhams services due to severe black ice, freezing fog and deep snow. 36 people injured.
April 2011 - two people were killed and 50 injured when an articulated lorry smashed into a coach on the M11 near Stansted. The lorry toppled over and slid down an embankment, spilling its cargo of carrots along the way