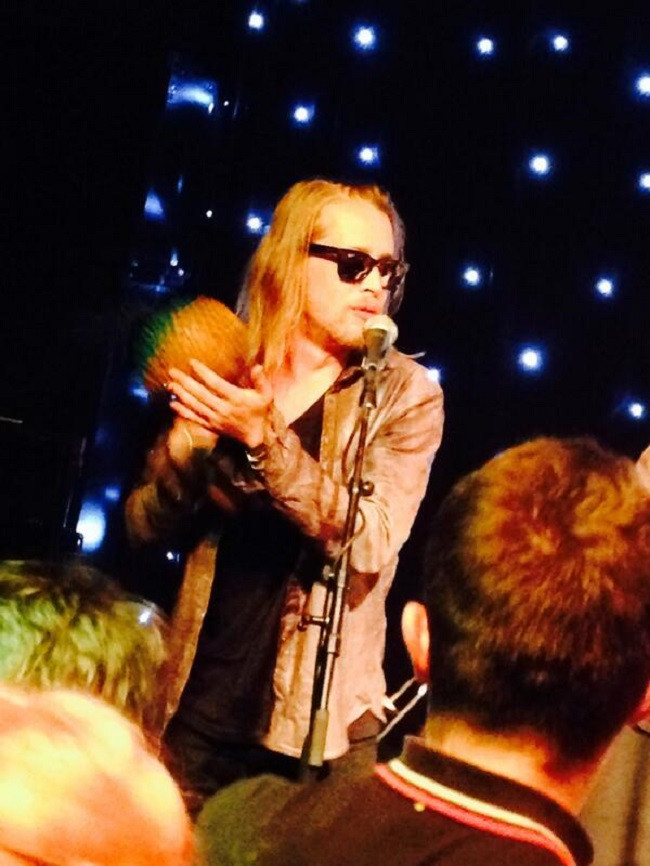 Macaulay Culkin and his comedy band - The Pizza Underground - had drinks thrown at them twice in Manchester and Nottingham while taking part in the Dot to Dot festival.
The former Home Alone star was so ticked off he ended up storming off stage after someone in the crowd interrupted his Kazoo solo during his performance at Zoo in Manchester.
The 33-year-old did return to finish the set but the gig later ended abruptly as fans invaded the stage.
The band, which sings weird pizza-themed lyrics, such as Take A Bite of the Wild Slice and I'm Waiting for Delivery Man, (yes, for real), did not go down well with punters at the Grosvenor street venue.
Alessandro Lima, who was in the crowd, told Manchester Evening News: "It was the weirdest thing I've ever watched. It was just bizarre."
Another attendee, Gina Burney, said: "It was brilliant and kind of terrible too. They even had an Andy Warhol!"
Blogger Frankie Buttons tweeted: "Things that are cool: Macaulay Culkin. Things that are not cool: throwing glasses at Macaulay Culkin! Manchester, you disappoint me."
Culkin and his Velvet Underground parody band also had beer thrown at them in Nottingham during a similar gig.
After just one song they were booed and beers were thrown at them.
Culkin told the audience: "Why are you throwing those? I'd rather drink them,"
They ploughed through another song but left the stage after being hit with a beer bomb.
"That's the end of the show," Culkin said. "Goodnight."
"It just sounds awful. I can't believe he is doing this," one anonymous concert goer told theNottinghamPost
"Why bother? It must go down well in America or something."