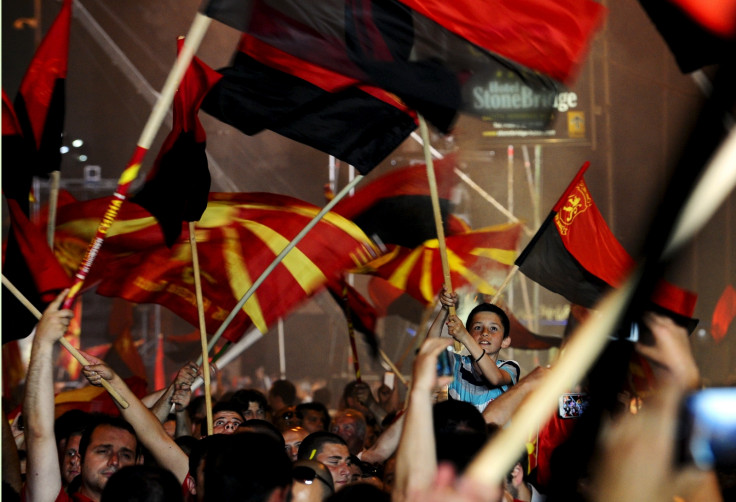 Tens of thousands of Macedonian supporters of Prime Minister Nikola Gruevski took to the streets of Skopje in a counter-protest after opposition supporters called for his resignation on 17 May.
Opposition supporters have called on Gruevski to resign over claims of corruption, phone tapping and inciting ethnic tensions to remain in power, Voice of America reported. On Sunday, opposition led a massive anti-government protest after recordings purport to show ministers plotting to rig voting.
According to Voice of America, the opposition set up camp outside of the Macedonian parliament. Monday's counter-protest was comparable to Sunday's opposition demonstration and was held about two kilometres away from the opposition's camp.
"We're here to defend our country," 28-year-old pro-government protester Snezana told Reuters. "It's time we stand up against this dark foreign scenario. [Zoran] Zaev doesn't even realise he's just a puppet."
Leaders in the West attempted to mediate between the embattled prime minister, opposition leader Zaev, as well as two ethnic Albanian leaders Ali Ahmeti and Menduh Thaci.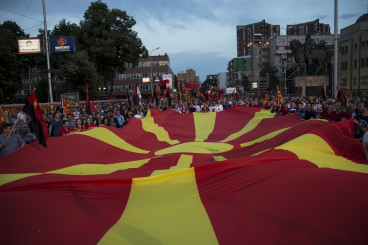 Nato Secretary-General Jens Stoltenberg, who has called for calm, said: "I very much believe that peaceful demonstrations are part of a democratic society." He added: "The important thins is to avoid more violence, to make sure that the democratic institutions are developed, and that the rule of law is implemented in full, and that we avoid escalation of the crisis and the conflict in Macedonia."
Connecticut Senator Chris Murphy, a member of the Senate Foreign Relations Committee, released a statement regarding the unrest last week. "The unfolding political crisis in Macedonia is a reminder that the United States cannot take peace and stability in the Balkans for granted," Murphy said.
"The shocking disclosures of the past few weeks call for sweeping changes in how the government in Skopje operates," he continued. "While the government has taken initial positive steps in the aftermath of the revelations, broader institutional changes are needed to fight corruption, strengthen the integrity of the electoral system, promote judicial independence, and protect free speech and media freedom.
"The government must immediately take steps to ensure accountability for the crimes alleged in the disclosed recordings, including full co-operation with the soon to be established parliamentary inquiry committee. Ultimately these grievances must be resolved through dialogue and co-operation with the opposition and civil society."
Violent clashes earlier this month between gunmen and police in the city of Kumanovo led to the deaths of eight officers and 14 gunmen.
Zaev, who leads the centre-left Social Democratic Union of Macedonia (SDSM), called on opposition demonstrators to remain outside government headquarters "until Gruevski goes", Radio Free Europe/Radio Liberty reported.
According to Reuters, the current crisis in Macedonia is the largest obstacle in Gruevski's nine-year rule since Western powers pulled the former Yugoslav republic from a civil war in 2001. An ethnic Albanian armed insurgency, which lasted several months, demanded greater political freedom. The almost civil war was stopped thanks to a cease-fire and promises of a path into the European Union and Nato membership.
However, Macedonia's entry into the EU has been postponed due to an ongoing dispute with neighbouring nation Greece over Macedonia's name - at Athens' insistence, the country is formally called The Former Yugoslav Republic of Macedonia (Fyrom).
Gruevski and Zaev are expected to meet in Strasbourg on 19 May to participate in a meeting mediated by the European Parliament, Radio Free Europe/Radio Liberty reported.