Houses have been damaged beyond repair, leaving burnt-out shells riddled with bullet holes in the mainly ethnic Albanian neighbourhood in the town of Kumanovo.
Stunned residents picked their way through shattered glass and tiles, crushed cars and blood stains, surveying the damage wrought by an operation by Macedonian police that left 22 people dead, though not everybody believes the official version of events.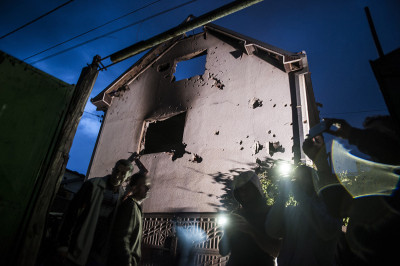 The government said eight police and 14 members of an "armed group" had been killed in the ensuing gun battle, describing the gunmen as former rebel commanders from neighbouring Kosovo, which broke from Serbia in war in 1999 and inspired an ethnic Albanian insurgency in Macedonia two years later.
Interior Ministry spokesman Ivo Kotevski said some of the slain attackers wore uniforms with the insignia of the disbanded ethnic Albanian Kosovo Liberation Army but had no identification documents on them. The ethnic Albanian rebel group fought Serb government forces in 1998-99 for the independence of Kosovo.
Prime Minister Nikola Gruevski suggested some of those killed or arrested in Kumanovo had fought "in the Middle East".
Interior minister Gordana Jankulovska told reporters that the police casualties occurred during a sweep operation in the Diva Naselba district. Police came under attack from automatic guns and bombs. A weeping Jankulovska described the five slain police officers as "heroes who gave their lives today for the Republic of Macedonia".
Police said the gunmen had been plotting to attack civilian and state targets this month, just as a political crisis rocking the government threatens to climax in an opposition rally called for 17 May.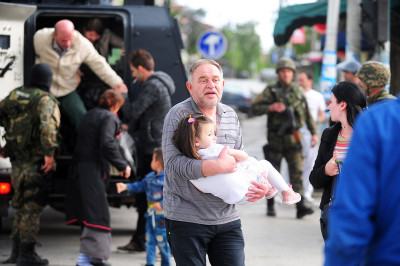 However some of Kumanovo's residents are deeply sceptical of this, claiming the violence was not the act of militants.
"It was not terrorists that did that here because there are no terrorists," Zekirja Ismaili told Reuters. "The real terrorists are Nikola Gruevski (Macedonian Prime Minister), (Snezana) Jankulovska (Macedonian Interior Minister), Ali Ahmeti (Albanian leader) and their thieves. They themselves set up this. We have not seen terrorists."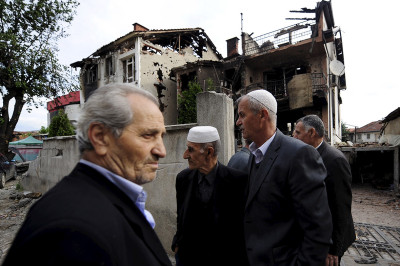 Nato, which dragged the former Yugoslav republic from the brink of all-out civil war in 2001, called for a "transparent investigation" of what went on when heavily armed police entered the mainly Albanian neighbourhood before dawn on Saturday (9 May).
Secretary-General Jens Stoltenberg said: "It is important that all political and community leaders work together to restore calm and conduct a transparent investigation to establish what happened. I urge everyone to exercise restraint and avoid any further escalation, in the interest of the country and the whole region."
The violence will trigger fears of a return to the ethnic conflict of 2001, when militants of the ethnic Albanian minority took up arms against government security forces, inspired by their ethnic kin in Kosovo who broke away from Serbia in war two years earlier.