Macedonian riot police has fired tear gas to disperse thousands of migrants who spent the night in no-man's land with Greece after it declared a state of emergency on its borders. At least eight people were injured after a crowd of 3,000 migrants, mostly refugees fleeing war in Syria and Afghanistan, were attacked by Macedonian police backed by armoured vehicles. One young asylum seeker was bleeding from shrapnel from stun grenades, according to AP.
Doctors Without Borders (MSF) said in a statement to IBTimes UK that they were treating 10 people injured by stun grenades on the ground. Four of them had to be sent to the hospital, including a man who had also allegedly been beaten by Macedonian troops.
"Our teams have never seen so many people gathering at the border before. Right now there are more than 3,000 people there," MSF said. The medical humanitarian organisation also treated more than 100 patients on Thursday 20 August.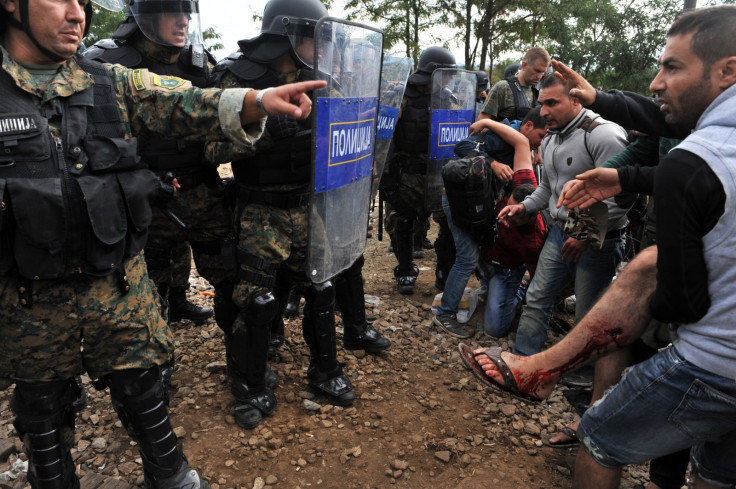 A large number of migrants amassed at the Greek border, to cross into Macedonia, and from there to northern Europe. But Skopje authorities made it clear they would stop the crowd with all means and declared the state of emergency. Police spokesman Ivo Kotevski said that both police and the army would control the 50km border stretch to halt the influx. "This measure is being introduced for the security of citizens who live in the border areas and for better treatment of the migrants," he said.
Record numbers of migrants have overwhelmed Greece in the first half of 2015, with 160,000 migrants arriving by sea, according to the UNHCR refugee agency. The figure is an increase of 750% on the same period in 2014. In July alone, there were 50,000 arrivals, about 70% of whom are from Syria. Most landed on Lesbos, Chios, Kos, Samos and Leros.
Greek police and coastguard officials on the islands were largely unprepared, given their lack of funds and staff owing to the financial crisis. In an attempt to ease the overcrowding on the islands, the government chartered a ferry to transport about 2,500 migrants to the port of Piraeus, offering relieving authorities that have struggled to keep up with the new arrivals and process them fast enough. A total of 44,000 people have travelled through Macedonia in the past two months.