Scotland Yard detectives investigating the disappearance of three-year-old Madeleine McCann in 2007 have arrived in Portugal to help interview several suspects and up to eight 'key witnesses'.
It is thought some of those to be questioned include former employees at the Ocean Club in Praia da Luz where Maddie vanished. It is believed the men may have carried out a number of burglaries in the resort in the months prior to her disappearance.
It is reported that four arguidos - formal suspects, or people of interest - will be interviewed by Portuguese police this week. The men are said to be attending of their own free will. All but one are Portuguese, the other a Russian national. English detectives will sit in on the interviews but will not apparently ask the suspects any questions.
The same team from Scotland Yard dug up several key sites in Praia da Luz earlier this month, but have refused to say whether they found any new evidence into Maddie's disappearance. One object uncovered in the search was sent away for analysis.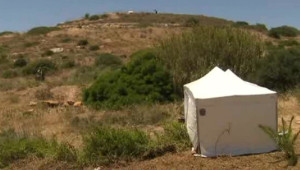 Madeleine McCann disappeared from an apartment at the resort in May 2007 as her parents Gerry and Kate dined at a nearby restaurant. The McCanns are currently suing ex-police chief Goncalo Amaral for £1million for claiming in a book that Madeleine was dead and that the McCanns lied about her disappearance. The case will be heard in a civil court in Lisbon on 8 July.
In a statement on their website the McCanns thanked police for continuing the investigation to find Madeleine: " We are very pleased that significant activity has taken place in Praia da Luz over the last 8 days with police officers and support teams from the UK working closely with the Policia Judicial and the Guarda Nacional Republicana."
However some local people and British visitors to the resort have criticised the latest investigation into Maddie's disappearance, which comes just as the summer season gets underway. The town mayor Victor Mata told the BBC: "The next three months are when the entire village earns its keep. The timing couldn't be worse. Summer essentially starts today. The people of Luz are not against the searches for Madeleine but seeing as it's been seven years, they would have appreciated it if they could have started in a few months' time."