Bruce Springsteen, Madonna and Chance The Rapper are among the musicians encouraging last-minute voters to back democratic candidate Hillary Clinton. Having shown staunch support for Clinton throughout her campaign trail, the music world are coming out in force hours before the politician goes head-to-head with rival Donald Trump in the US presidential election.
Rockers Bruce Springsteen and Jon Bon Jovi entertained the masses outside the Independence Mall in Philadelphia on 7 November during the final part of Clinton's Love Trumps Hate concert series. Springsteen, 67, did not hold back in his criticism of Trump, telling the audience that the republican nominee's "vision is limited to little beyond himself".
The Boss speaks
Referring to the results announcement on 8 November, The Boss continued: "Tomorrow those ideas and that campaign is going down," adding that election day should be remembered as the day "we stood with Hillary Clinton on the right side of history and a dream of a better America".
Springsteen, who has been an outspoken supporter of Clinton, said of the former secretary of state: "The choice tomorrow couldn't be any clearer. Hillary's candidacy is based on intelligence, experience, preparation and an actual vision of America where everyone counts.
"Hillary sees an America where the issue of income distribution should be at the forefront of our national conversation. She sees an America where an issue of immigration reform is dealt with realistically and compassionately."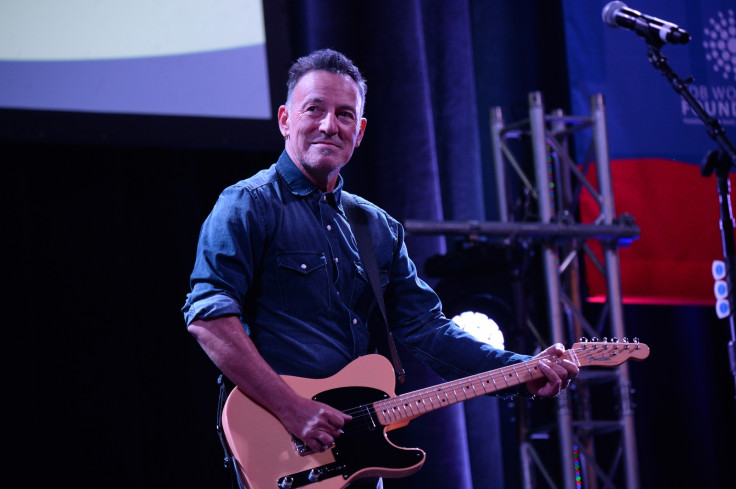 Jon Bon Jovi is Livin' On A Prayer
The Bon Jovi frontman performed a medley of hits including Who Says You Can't Go Home, Livin' On A Prayer, Someday I'll Be Saturday Night and a cover of The Beatles' Here Comes The Sun. Addressing the huge crowd, Jon Bon Jovi said: "Philadelphia, we have been through a lot together." Demonstrating how far out of favour Trump has come with some of the American public, the singer then read out a letter from a republican Philadelphia resident who had actually voted for Clinton.
Jon Bon Jovi delivered a huge surprise in the shape of pop star Lady Gaga, who described Clinton as "the one", "made of steel" and "unstoppable". The Perfect Illusion singer then urged: "Why don't you put your voting shades on, practice your walk to the polls, and go out and vote for Hillary Clinton. I think it's time to come to mama."
Madonna strips back (after stripping off)
Weeks after sharing a topless selfie to pledge her vote for Clinton, Madonna performed an acoustic set at Washington Square Park on 7 November. The queen of pop sang her own hits Like A Prayer and Rebel Heart in addition to covers of John Lennon's Imagine and If I Had A Hammer by Peter, Paul and Mary. In the middle of her performance, Madge plead: "Vote with your heart, vote with your mind, vote with your spirit, vote with your soul. Save this country, please. Let's keep America the great country that it is."
Chance The Rapper leads Chicago
The hip-hop star offered more than just a free concert in his native Chicago as he led his voters directly to the polls on 7 November. After performing at the Petrillo Music Shell in Grant Park, Chance led his large crowd through rush-hour traffic and to a nearby voting station in a bid to encourage millennials to have their say. Chance's Parade To The Polls movement proved to be a success as it attracted thousands of youngsters keen to cast their vote.