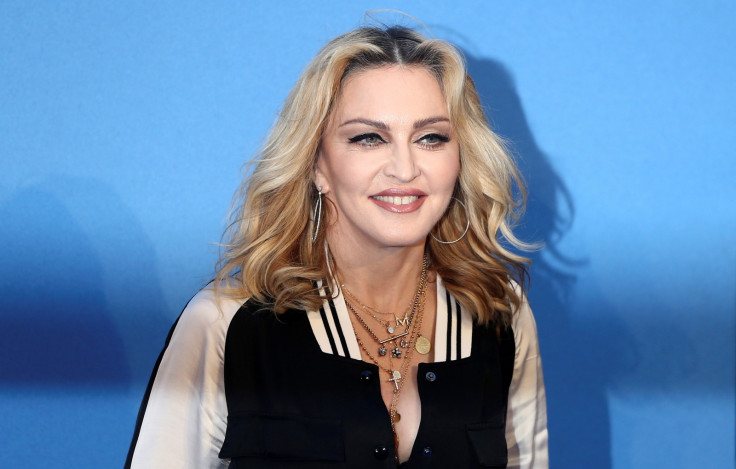 Madonna is known to be a frontrunner but – atypically – the queen of pop is backing someone else at present. The Material Girl is the latest celebrity to get naked for US presidential candidate Hillary Clinton just hours after Katy Perry launched a nude campaign for the democratic nominee.
In a candid selfie shared on Instagram and Twitter, Madonna, 58, can be seen topless with her face only partially visible. The singer captioned the image: "Im voting naked with Katy Perry!! Vote for Hillary. She's the Best we got!. Nude Voting series # 1."
Alongside another Photoshopped image of her appearing to straddle Clinton, Madonna further explained: "Living For Hillary Yes I vote for intelligence. I vote for equal rights for women and all minorities.
"Women Run the World now they have to get out and start supporting one another. No more misogynist feminists! No more mysogony. Get out and Vote."
The Living For Love singer endorsed Clinton publicly while bashing the politician's presidential rival Donald Trump. Referring to Trump and his sons' passion for hunting, Madonna commented on social media: "How Big of. P***y Do you have to BE to kill this Noble Animal for sport? Just ask Donald Trump Jr and his brother Eric."
Following the first presidential debate on 26 September, Madonna showed her support for friend and comedian Rosie O'Donnell who was slammed by Trump during his speech. The singer posted a throwback photo of herself with O'Donnell alongside the caption: "Mess with my girl Rosie and you're messing with me!!! Cruelty never made anyone a winner. #rebelhearts4ever."
Just a few hours before Madonna's graphic display of support, fellow pop star Katy Perry collaborated with spoof website Funny Or Die. With sage advice for election day morning, Perry says: "You know, November 8th is election day and I've got some great news. This year, you can look like s**t when you vote. I've briefly scanned the constitution and nowhere does it say you can't just roll out of bed and come to the polls in whatever state you woke up in.
She adds: "In the name of democracy, any out-of-bed look is a-okay... If you're like me, I sleep naked," before stripping off nude and getting arrested for indecency. The closing slogan states: "Remember to vote. Who cares what you wear, just wear clothes." Although the video refrains from bias towards either candidate, Perry is known to be a staunch supporter of Clinton, 68, and has performed and spoken at the democratic candidate's rallies.
Watch Katy Perry's Funny Or Die spoof: