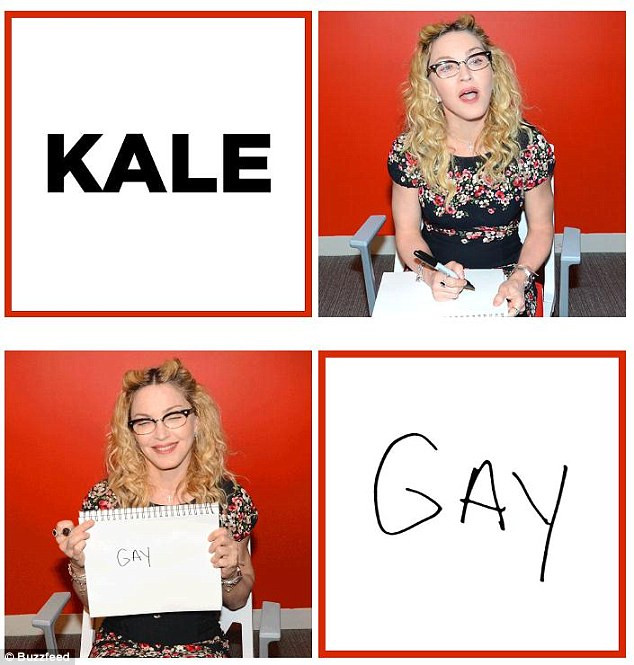 While she has been hailed as a gay icon, Madonna has managed to outrage her core fan base after appearing to suggest that the word 'gay' is an insult.
The 55-year-old was taking part in a word association game with entertainment site Buzzfeed when she was asked to react in one word to a number of random words.
Describing the first word that came to her in response to the word 'Kale' she wrote 'Gay.'
She also used the word to describe President Vladimir Putin – who has imposed archaic legislation banning homosexuality in Russia.
Madonna previously criticised Putin for his 'blatant intolerance of gay rights', and revealed she had received death threats after performing in Russia in 2012.
As she dismissively used the word to describe a vegetable, fans of the star turned to Twitter to express their outrage and incredulity at her flippant use of the word.
'Did Madonna just try to use 'gay' as an insult or…?' wrote one fan, while another said simply: "She should know better."
It's not the first time pop star has been at the centre of controversy for her choice of vocabulary.
In January, she apologised after posting an instagram message in which she used the word n****r to describe her 13-year-old son Rocco on Instagram.
Releasing a statement she said: "There's no way to defend the use of the word. It was all about intention...It was used as a term of endearment toward my son who is white."
Fans of the Material Girl have also jumped to her defence claiming that people are over reacting to her comment.
One Twitter user wrote: "So, Madonna's homophobic for calling kale 'gay'? This feels like the end of days. I honestly think we're becoming too stupid to survive."
Madonna has not yet responded to the public complaints on Twitter following her latest misappropriation of language.