A top Italian anti-mafia prosecutor detonated the bomb that killed him and five members of his police escort by buzzing his mother's doorbell, according to the Mafia boss serving a life sentence for ordering the murder.
Paolo Borsellino was killed in July 1992 when an explosive-laden Fiat car blew up in Via D'Aamelio, in the Sicilian city of Palermo, where the prosecutor had gone to visit his elderly mother.
A few years later, Salvatore "Toto" Riina, the brutal and then undisputed leader of Cosa Nostra, was found guilty of ordering the murder.
The identity of who physically detonated the bomb, however, has remained unknown for more than two decades, thickening the mystery surrounding the murder and fuelling speculation that secret services might have been involved.
Riina might have finally helped investigators solve the case once and for all while chatting to Apulia mobster Alberto Lorusso, a fellow inmate at his Milan prison.
During the conversation, which was taped by police, Riina said it was Borsellino himself who, without being aware of it, pressed the button that triggered the blast.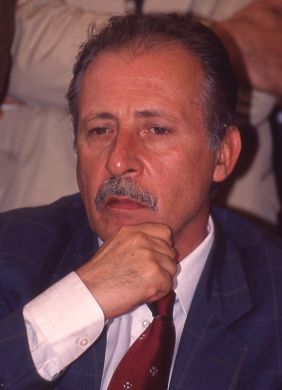 Riina claimed a remote control was hidden inside the door phone located at the entrance of the apartment building where Borsellino's mother lived, La Repubblica newspaper reported.
As Borsellino buzzed, the bomb went off on the street outside, Riina said.
Policemen Agostino Catalano, Walter Cosina, Emanuela Loi, Vincenzo Li Muli, and Claudio Traina were also killed in the blast.
It was the second murder of a high-profile anti-mafia prosecutor to shock Italy that year, as a car convoy carrying Borsellino's colleague and mentor Giovanni Falcone was blown up in a massive explosion while it travelled along a highway near the town of Capaci a few months earlier.
Prosecutors in the Sicilian city of Caltanissetta said they are investigating Riina's claim.
The boss has been quite talkative with Lorusso during recreation time at Milan's Opera prison in recent months.
Police taped him bragging about past crimes and criticising the current leadership of Cosa Nostra.
In recordings published by Italian newspapers, the boss of bosses was also heard vowing mafia vengeance against a team of prosecutors investigating alleged ties between Cosa Nostra and Italian authorities, sparking the suspicion that he might be using his chats with Lorusso as a means to send messages out of prison.