Attackers who beat an Italian man to death allegedly shouted "you steal our jobs" during the violence.
Six men were being questioned by police on suspicion of attempted murder over the incident at an Italian restaurant in Maidstone, Kent. A total of nine men have been arrested in connection with the enquiry.
The victim has been named in Italian media as Joele Leotta, 19, who was working at a restaurant named 'Vesuvius', when he died.
According to The Day - an Italian newspaper, the attackers allegedly accused him of 'stealing jobs' as they launched the fatal assault.
Leotta, who died in hospital from his injuries, had been learning English and living in accommodation above the restaurant at the time, it is understood.
Click here for the reaction in Italy to Leotta's death and UK residents were branded "beasts" for the killing.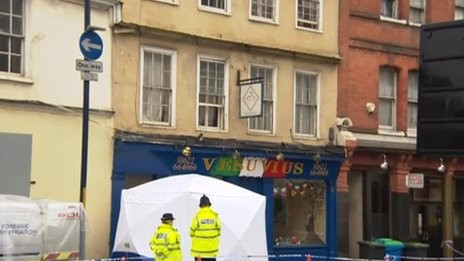 A tribute page on Facebook was liked by more than 350 people and drew shocked reaction.
One commenter posted: "My friend always told me: Never go to England."
Another one commented on the fact the victim was Italian, writing: "the novelty is that instead of the usual non-European immigrants, this time they attacked a European, as well as white. You can still speak of racism? xenophobia? Or is it just the expression of idiocy?"
The family of Leotta have been informed and are on their way to Kent from Italy.
A Kent police spokesman said: "Police were called at 11:20pm on the evening of 20 October to Lower Stone Street in Maidstone, where a man had reportedly been assaulted. A 19 year old Italian man later died at King's College Hospital in London."
Joele's father Ivan flew in to England with the family "in shock" at his violent death. He said Joele had been "so happy" to be in the country.