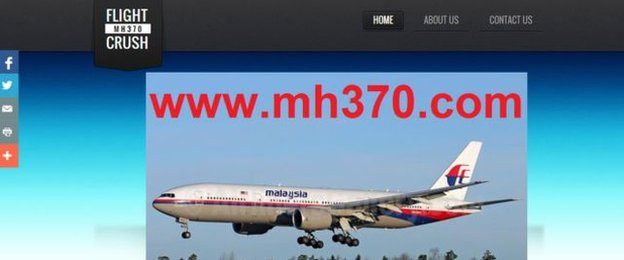 The owner of the MH370.com website is looking to cash in on the huge surge of interent online associated with the ill-fated Malaysian Airlines Flight MH370.
An auction on eBay was looking for $5,000 in order to secure the url with the seller - called chypriotte - claiming: "Buy this domain today and sell it later on for thousands of dollars. Dozens of companies, families of victims, will want to buy it from you. Pay little money today and make huge profit tomorrow."
Once the auction was highlighted on social media channels such as Facebook and Twitter, there was an immediate backlash. Some users called the auction "despicable".
Removed
It was subsequently removed from eBay but it was not clear if this was because of a successful transaction or because of user pressure.
The MH370.com website is currently just a holding page, with Home, About Us and Contact Us pages, none of which contains information. The owner of the website is also a mystery, and a Whois check revealed little more other than that the website was registered with GoDaddy.
According to GoDaddy's records the website was created on 7 March - the same day as the Malaysia Airlines flight went missing. The website is registered to a company in Scottsdale, Arizona, and a quick online search reveals it to be an address that has been used to register other websites which have been offered for sale.
There has been a huge surge of interest on social media and online since the Malaysia Airlines flight disappeared when en route from Kuala Lumpur to Beijing on Friday, with 239 passengers and crew on board.