The United Nations Security Council has unanimously passed an Australian-sponsored resolution calling for full and unhindered access to the crash site of MH17, the Malaysia Airlines plane shot down last week with the loss of all 298 people on board.
The resolution "condemns in the strongest terms" the attack on the civilian airliner and has called for an international investigation with the United Nations civil aviation agency. However the resolution is not enforceable as it is not under Chapter VII of the United Nations Charter.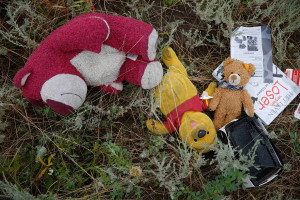 Russia backed the resolution but only after the text was changed from "shooting down" to "downing" and a paragraph added demanding an end to hostilities in the area. Fighting around Donetsk has escalated today with the main part of the city coming under attack.
Representatives of the Organisation for Security and Co-operation in Europe have spoken of their difficulty in attempting to access the site. Australian foreign minister, Julie Bishop, who sponsored the resolution, said "It is despicable this access is not being provided."
The pro-Russian rebels who control the area have now agreed to allow investigators to have full access and most of the bodies of victims are now on refrigerated trains which are travelling from the city of Kharkiv back to Holland, from where most of the victims originated. Rebels have now handed over the black box from the plane to investigators, according to Reuters.
Although the culprits behind the shooting down of the airliner have not been positively identified, most Western nations believe pro-Russian rebels are responsible. President Obama has said President Putin is "directly responsible" for opening up the site of the crash to investigators.
"Unfortunately, the Russian-backed separatists who control the area continue to block the investigation," said Obama. "They've repeatedly prevented international investigators from gaining full access to the wreckage. As investigators approached, they fired their weapons into the air. These separatists are removing evidence from the crash site. All of which begs the question: what exactly are they trying to hide?"
However President Putin, who has backed the rebels, says: "Nobody should and no one has the right to use this tragedy to achieve selfish political aims. Such events should unite, not divide people."