The refrigerated train carrying the bodies of victims of the crash of Malaysia Airlines MH17 suffered a power outage last night, sparking further criticism of the way the incident has been handled.
Dutch investigators have begun inspecting the bodies at Torez train station in eastern Ukraine, where victims' remains are being stored on a train under rebel control not far from the crash site.
According to the Associated Press, the smell of decomposing bodies was much more pronounced on Monday than a day earlier, when 196 bodies were loaded onto the carriages. Rebels with armed automatic weapons were standing guard around the carriages.
A train engineer said the refrigeration had been off overnight without any clear reasons. The cooling system was however back up and running early on Monday.
Three members of a Dutch Disaster Victim Identification team have since arrived in Donetsk to inspect the remains of some of the victims. A team of Malaysian officials are also due to arrive later today.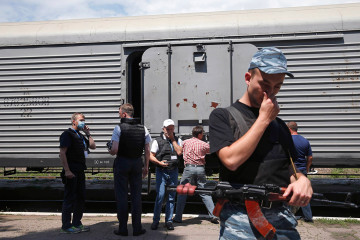 The Dutch experts are the first international investigators to arrive in the region where the airliner carrying 298 passengers and crew went down.
Monitors from the Organisation for Security and Co-operation in Europe (OSCE) have been at the accident site, but their access to the wreckage has been limited by the rebels.
The BBC has reported that another group of 31 investigators from the Netherlands, the US, the UK and Australia are now in the eastern city of Kharkiv, and are expected at the crash site shortly.
Air crash investigators from the UK who travelled to the Ukraine at the request of the Foreign Office and the Department for Transport are still waiting to visit the scene of the accident.
The six-strong team from the Air Accidents Investigation Branch have been in the Ukrainian capital Kiev, around 300 miles from the crash site, since Saturday.
Western countries have continued to put pressure on Russia to rein in the insurgents in Ukraine and ensure the rebels' full co-operation with international investigators.
Dutch prime minister Mark Rutte, whose country lost 193 people, told a news conference on Monday that repatriating the bodies was his "number one priority".
"We want our people back," he told parliament in The Hague.
Ukrainian prime minister Arseniy Yatsenyuk has agreed that the Netherlands lead an international investigation and it was "ready to send all bodies to Amsterdam".
Ukrainian officials allege the plane was shot down by a surface-to-air missile launched by pro-Russian rebels in eastern Ukraine. They said the BUK rocket launcher was supplied from Russia and operated by Russian personnel.
Russian president Vladimir Putin has denied backing the separatists, accusing adversaries of exploiting the crash for "mercenary objectives".