An oil-rig worker, who was sacked from his job after saying he believed he saw the MH370 flight crash into South China Sea, says the official search for the doomed plane in the Southern Indian Ocean is in the wrong place.
Mike McKay, 57, stands by seeing the Boeing 777 plummet into the China sea on that fateful night on 7 March (local time) while he was based on the Songa Mercur oil rig - off the Vietnamese town of Vung Tau.
He wrote an email informing authorities in Vietnam of the reported sighting only to be sacked from his post after 30 years working in the oil industry as soon as his revelations were made public.
"Unfortunately my words were misinterpreted. I was careful to say that I 'believed' I saw the aircraft come down. The email was never for public consumption.
"And if it was the plane that has been missing for so long, then the search in the southern Indian Ocean is clearly in the wrong place," he told The Daily Mail.
He spotted the "sudden glow of fire" when he got up around midnight for a cigarette and a coffee.
"I believe I saw the Malaysian Airlines plane come down. The timing is right," he wrote.
"It was a beautiful night with good visibility because it had been raining, which always tends to clear the air.
"I saw a sudden glow of fire above the horizon – which caught my immediate attention – although, of course I could not have known whether it was definitely an aircraft or not."
In his email he noted the longitude and latitude of his location when he saw the unusual sighting.
"I observed (the plane?) burning at high altitude on a compass bearing of 265 degrees to 275 degrees from our surface location.
"While I observed the burning (plane) it appeared to be in one piece.
"From when I first saw the burning until the flames went out still at high altitude was 10-15 seconds.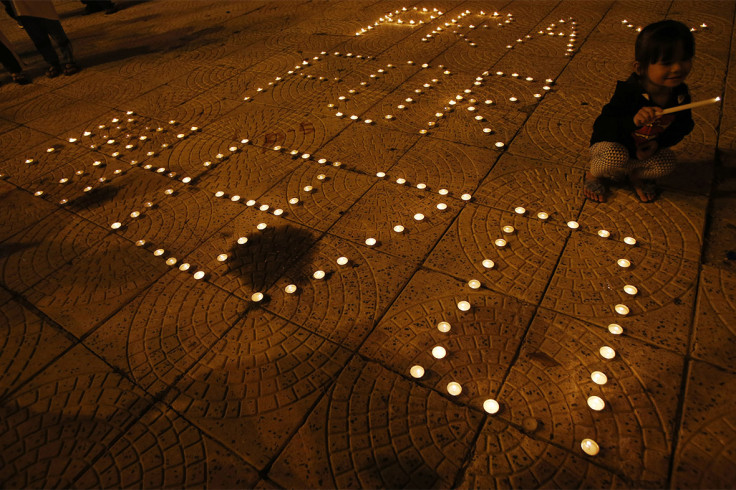 "There was no lateral movement, so it was either coming toward our location, stationary (falling) or going away from our location."
He believes the current multi-million pound search in Southern Indian Ocean - most expensive in aviation history - is a waste of time.
"Almost a year has passed, but I stand by what I saw," he said.
"I've thought about it and thought about it, over and over and while I cannot say for certain that the burning object in the sky was definitely MH370, the timing fits in with when the Malaysian plane lost contact.
"If it was MH370 I cannot imagine how it could have continued flying. It could only have come down in the South China Sea.
"I have been trying to disprove that what I saw was the aeroplane ever since."
A spokesperson for hydrocarbon exploration and production company M-I Swaco where McKay used to work, said: "The circumstances of Mr McKay's departure have nothing to do with the MH370 story or the resulting publicity."
Chinese relatives protest outside Malaysia PM's office
His remarks come as Chinese relatives protest outside Malaysia PM's office this week to demand a retraction from the government which declared last month, the MH370 tragedy was an "accident" in accordance to aviation law and the 239 passengers were all presumed dead.
"We want an explanation from Prime Minister Najib Razak. And we want him to cancel the declaration that the incident was an accident," said Kelly Wen, a Chinese national whose husband was on the doomed flight.
The aircraft disappeared without trace after veering off its flight path toward Beijing after taking off from Kuala Lumpur on March 8. Its wreckage has never been found.
The Malaysian authorities have come under severe criticism for not sending jets to investigate the plane when it was identified on military radar - maintaining the position the flight was not deemed hostile.
In a statement to New Zealand Police for Interpol on his return home from the oil rig to New Zealand.
"There's a lot about this whole affair that niggles me and I've considered numerous questions as to whether there has been a cover up or there has been a show of inefficiency," he said.
"I learned that Malaysian military had picked up a possible signal over Penang [an island off the west coast of the Malaysian peninsular] but didn't report it immediately.
"Of course, if it was from the plane, it means that contrary to my belief that it had come down in the South China Sea it had managed to turn around and fly back across the mainland.
"But what has also annoyed me is the fact that the Vietnamese searchers were stood-down after performing one flight based on my observation before the whole search effort was moved to the other side of the peninsular."