The search for missing Malaysia Airlines flight MH370 has been refined following new details of a satellite phone call that was made by ground staff to crew after the doomed airliner disappeared from radar.
Australia's deputy prime minister, Warren Truss, said the plane "turned south a little earlier than we had previously expected" after tracking this failed call.
"After MH370 disappeared from the radar, Malaysia Airlines' ground staff sought to make contact using a satellite phone. That was unsuccessful," Truss said.
"But the detailed research that's being done now has been able to... trace that phone call and help position the aircraft and the direction it was travelling."
The announcement came as Truss and Malaysian transport minister Liow Tiong Lai signed an agreement to share the ongoing costs of the £29.32m search, which will move to a next phase within a month, covering an area of 23,000 sq miles and is expected to last up to a year.
Truss told reporters in Canberra: "The search area remains the same but some of the information that we now have suggests to us that areas a little further to the south... are of particular interest and priority in the search area."
The aircraft disappeared on 8 March with 239 people aboard after veering off its original course from Kuala Lumpur to Beijing.
Based on satellite data, it is believed to have come down in the southern Indian Ocean. No wreckage of the debris has yet been found.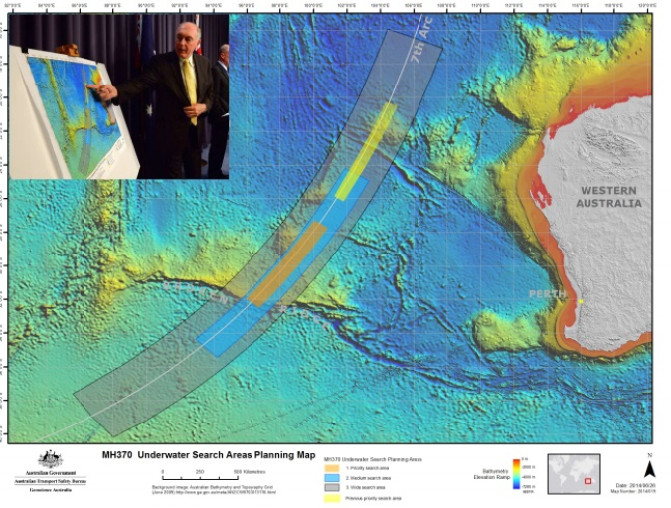 Truss said investigators still believed MH370 was somewhere on the search zone's seventh arc, where it emitted a final satellite "handshake" after exhausting its fuel supply.
"It remains on the seventh arc - that is, there is a very, very strong view that this aircraft will be resting on the seventh arc," he said.
Dutch contractor Fugro Survey will kick off the underwater search for the Boeing 777 in September. Three vessels towing underwater vehicles equipped with side-scan sonar will search for the plane.
China's vice-minister of transport, He Jianzhong, also attended the Canberra meeting and said the three countries agreed the search would not be interrupted or given up. The plane had 153 Chinese passengers, the most of any nationality on board.
Tiong Lai also promised to provide "more regular updates and information" about the search when they arise to grieving families.
"Malaysia will provide the necessary financial contribution towards the search effort and match Australia's commitment," he said.
"I want to assure the loved ones of the passengers and crew onboard MH370 that we are resolute in our efforts to search for this aircraft.
"I have been touched by many of the stories I have heard and we will do our best to engage the next of kin and help them find closure."