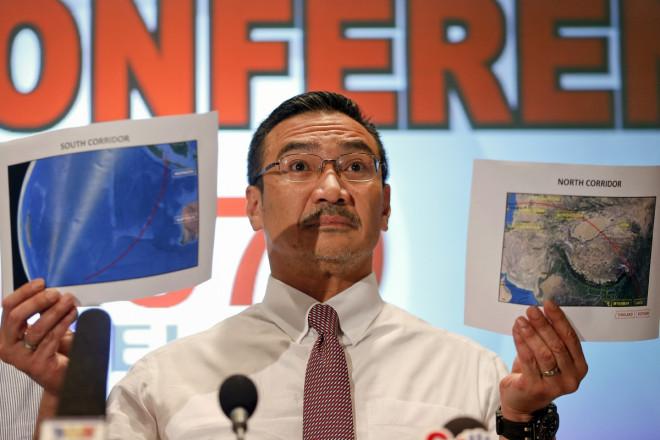 Hishammuddin Hussein was at the centre of another PR gaffe when he agreed with a tweet that described the tragedy of missing Malaysia Airlines flight as a 'blessing in disguise'.
Hussein has come under crippling attack for his approach in the handling of the crisis involving disappearance of MH370 on March 7.
When once asked to defend his position and about accusations the plane search had been disorderly, he retorted: "It's only confusion if you want it to be seen to be confusion."
Now he has shocked people by responding to an inappropriate tweet made by Kuala Lumpur-based journalist Ismail Amsyar.
Amsyar tweeted: "MH370 is a blessing in disguise for all of us. I understand now the beauty of unity, the sweetness of having each other."
Six minutes later Malaysia's Defence minister replied: "Right u are :)"
Followers on Twitter immediately questioned the appropriateness of the tweet and said it insulted the grieving families of the MH370 passengers.
Hussein has since removed the comment from Twitter and the journalist has also taken down his original tweet and issued an apology.
Meanwhile Australia's Prime Minister Tony Abbott and his Malaysian counterpart, Najib Razak, have described the ongoing search for MH370 as the "most difficult in human history".
"We will not rest until answers are indeed found," Razak told a news conference. "We owe it to the grieving families to give them comfort and closure. The world expects us to do our level best."
Razak said he was confident authorities would eventually be able to provide closure to relatives who have lost loved ones.
"We are here today, but our thoughts are thousands of kilometres away in the cities and countries around the world where families of those on board wait and wait desperately for news," he said.
"I know that until we find the plane, many families can't start to grieve. I can't imagine what they must be going through, but I can promise them that we will not give up."
The international search has now entered its 25th day with ships and planes continuing to scour 1500km area of the south Indian ocean off west of Perth.
The disappearance of the plane has also been classified as a criminal investigation, and ground crew are now being quizzed as the probe 'moves on to look at staff who had anything to do with the aircraft,' from preparing food to packing cargo.