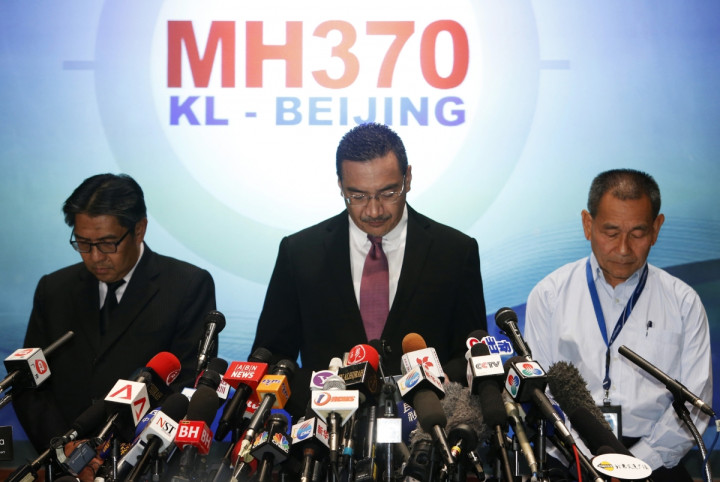 Grieving relatives of passengers on board missing flight MH370 is offering a $3 million (£1.8m) reward for a whistleblower to come forward and give key information into the flight's investigation.
After three months of failed search efforts, families have become convinced the authorities are concealing the truth about the disappearance of the Boeing 777 and will launch the crowd-funding campaign Indiegogo in a bid to get answers.
The campaign comes as Malaysia's acting transport minister Hishammuddin Hussein condemned Boeing and Rolls Royce this week for their part in the search for the missing jet and has hit back that responsibility for the entire investigation should fall on Malaysia, Australia and China.
"We are taking matters into our own hands," Sarah Bajc told The USA Today, whose partner Philip Wood, 50, was on the flight.
"There is no credible evidence that the plane is in the southern Indian Ocean, where planes, boats and a mini-sub have searched in vain for week.
"I'm convinced that somebody is concealing something."
Called "Reward MH370: The Search for the Truth," the campaign will launch Monday on Indiegogo, starting with minimum donations of $5.
A $2 million fund for private investigators is also being raised to follow up leads, which Bajc acknowledges "won't go very far".
"Clearly, they've already spent $100 million dollars and they've gotten nothing," she said. "But we're not going to approach it with boats in the ocean, we're going to approach it with human intelligence."
They are inspired by the example of family members after the 2009 crash of an Air France plane, which was located after two years.
She added: "There are no promises here, but we believe we need to try something, as if we just sit back on our heels and allow the existing path to continue, I don't think this will ever be solved.
"The relatives hope they turn up a whistle-blower who says, 'I know where to find this,' or a flight controller who can access new data, but expect they will also encounter some unethical people.
"I don't care. I just want to find the plane."
Acting transport minister Hishammuddin Hussein hit out at Boeing and Rolls Royce this week at a press conference for not being more transparent in their part in the search for the missing jet.
"There will come a time when they will come and have to be more open with their position because it is their engines and we base our search and future plans on their advice and to put it squarely on the shoulders of Australia, Malaysia and China is not fair," he told a press conference.
"Raw data means nothing unless it is analysed and advised and we make our decisions based on their advice. There will come a time when they will have to defend the advice they have given us."
Meanwhile Australian transportation authorities are now moving to a revised underwater search zone in the southern Indian Ocean.
"The latest information and analysis confirms that MH370 will be found in close proximity to the arc," the Australian Transport Safety Bureau said in a statement.
"At the time MH370 reached this arc, the aircraft is considered to have exhausted its fuel and to have been descending."