Malaysia and North Korea have imposed travel restrictions in a tit-for-tat move following the killing of Kim Jong-nam, the estranged half brother of Pyongyang Supreme Leader Kim Jong-un in Kuala Lumpur on 13 February.
In a move that soured a once warm relationship, the Malaysian government banned North Korean embassy staff and officers from leaving the country on Tuesday (7 March), after North Korea imposed a temporary ban prohibiting Malaysian citizens from leaving Pyongyang.
Ties between both countries have been on a downward spiral following Jong-nam's murder. On 20 February, Malaysia recalled its ambassador to Pyongyang and summoned the North Korean ambassador to Kuala Lumpur after it accused Malaysian authorities of mishandling the investigations.
Despite forensic evidence that the victim was poisoned by a nerve agent, North Korea insisted that he died from a heart attack and accused Kuala Lumpur of "colluding and playing to the gallery of external forces."
Malaysian police had arrested and later released a North Korean national and are seeking several others to help in the murder investigation.
In a Tuesday press conference, chief of police Khalid Abu Bakar said that the two North Koreans wanted for questioning are "hiding" in the North Korean embassy in Kuala Lumpur and accused Pyongyang of failing to cooperate with investigators.
"How much longer do they want to hide in the embassy ... it is a matter of time before they come out," Khalid said.
Malaysia had no choice, says Home Minister
In an emergency press conference held after North Korea imposed the travel ban on Malaysians, Home Minister Ahmad Zahid Hamidi said: "We don't mean to do this, but it needs to be done.
"The Home Ministry has made a ruling, effective immediately that not one staff member or officer of the [North Korean] embassy can leave the country," he said.
"This will be made effective at all immigration exits nationwide," he said, The Star reports.
The minister explained that Malaysia initially had no plans to retaliate against Pyongyang despite its previous accusations over the murder investigation but after the rogue nation "carried out a move that was against the norms of diplomatic relations," its hand was forced.
"We need to take similar steps as they have manipulated the murder ..." he said.
"We want to share a clear message that one should not point fingers at Malaysia and look down on our sovereignty," he said. It is not immediately known how many Malaysians are currently stranded in North Korea.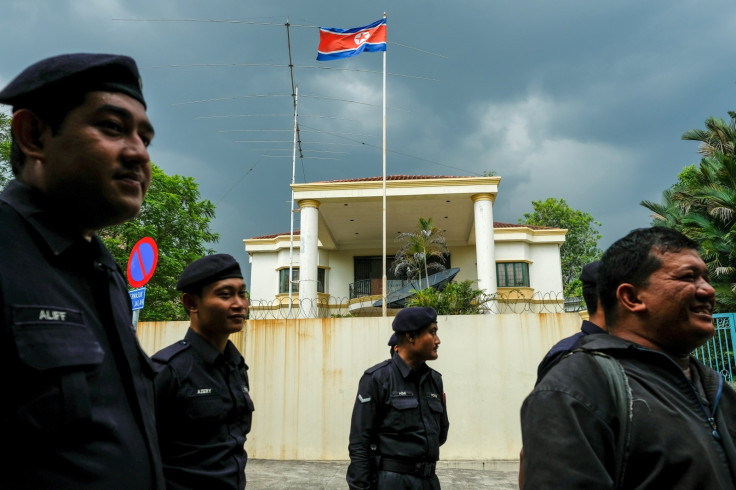 The ban however only applies to diplomatic staff. Other North Korean citizens in Malaysia are free to leave the country.
The minister, who is also the deputy prime minister said that bilateral ties with North Korea will be discussed at the cabinet meeting on Friday (10 March).
Following the announcement, Malaysian police surrounded and cordoned off the North Korean Embassy in Kuala Lumpur.
North Korea bans Malaysians from leaving Pyongyang
In a surprise move, North Korea banned all Malaysian citizens from leaving the country on Tuesday effectively holding them hostage, reports South China Morning Post.
"All Malaysian nationals in the DPRK will be temporarily prohibited from leaving the country until the incident that happened in Malaysia is properly solved," the official Korea Central News Agency said, citing the foreign ministry.
Malaysian diplomats and nations in Pyongyang will be allowed to "conduct business and live normally" while the travel ban is in place, KCNA reported.