Malcolm X the Muslim: A man Islam saved twice then killed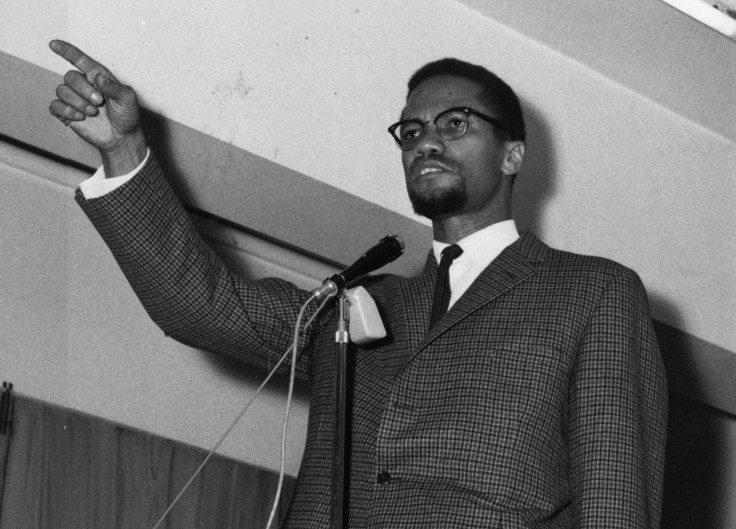 It was the Nation of Islam that dragged Malcolm X out of a life of crime, moral penury and racial victimhood. It was then what he called "True Islam" that drew him away from the cultish Nation of Islam and its anti-white racism, through an eye-opening Hajj pilgrimage.
And having split acrimoniously from the Nation of Islam, it was people of his own faith who would order and carry out his assassination, in which he was shot repeatedly on 21 February, 1965, at a talk in a New York ballroom half a century ago.
Before he was murdered, Malcolm X recanted his past beliefs about the inherent nature of white people being racist and evil. He eschewed his hatred without losing his rage at the injustice suffered by blacks in America. But his Islamic faith only ever deepened.
He told the writer Alex Haley in 1964, who he was dictating his autobiography to:
I did many things as a Muslim that I'm sorry for now. I was a zombie then – like all Muslims – I was hypnotized, pointed in a certain direction and told to march. Well, I guess a man's entitled to make a fool of himself if he's ready to pay the cost. It cost me twelve years.
Sunk to the very bottom
Malcolm X was born Malcolm Little – the surname of his ancestors' slave owners – in Omaha, Nebraska, on 19 May, 1925. He was one of eight children and the son of Reverend Earl Little, a fiery Baptist minister who associated with a movement calling on black Americans to 'return' to Africa.
He lived through the racial oppression of the blacks by whites, experiencing first hand segregation and racial abuse. In 1931, his father was murdered by whites, probably the Klu Klux Klan, his head staved in and then his body near cut in half by a tram.
A few years later, with the impoverished family struggling to get by on state-support, his mother, Hilda, suffered a mental breakdown. She was put in an institution for 26 years.
Through various low-paid jobs and life in general, Little ended up in 1940s Harlem, a bustling New York ghetto. It swallowed him up. He boozed, he swore, he stole, he slept around, mixed with pimps and prostitutes, was a drug taker and peddler, and became a hustler.
Eventually, after several run-ins with the police closed down his small-time drug dealing revenue stream, he went bigger: armed robbery. Police caught up with him again, in February 1946, and he got ten years in prison.
Little said in his autobiography:
I had sunk to the very bottom of the American white man's society when – soon now, in prison – I found Allah and the religion of Islam and it completely transformed my life.
Elijah Muhammed
Outside of prison, two of Little's brothers – Philbert and Reginald – were becoming involved in a black rights group called Nation of Islam. They wrote to Little and urged him to become a Muslim, telling him to "pray to Allah for deliverance" and urging him to stop eating pork and smoking.
They said they could get him out of prison, so he obliged them. His not eating pork "startled" the other inmates and the reaction made him feel proud. He shortly learned that all his brothers and sisters had now converted to Islam. Little's Islamic journey had begun.
His brother Reginald told him about a man called Elijah Muhammad, leader of the Nation of Islam, who was black, American and preached that Allah had made himself known to him. Most importantly, Muhammad was teaching a startling revelation: white people were the devil.
Little was urged by his siblings to accept the teachings of the controversial Elijah Muhammad, who would be the biggest single influence on the man who became Malcolm X.
He said:
'The true knowledge,' reconstructed much more briefly than I received it, was that history had been 'whitened' in the white man's history books, and that the black man had been 'brainwashed for hundreds of years'," Little said.

Original Man was black, in the continent called Africa where the human race had emerged on the planet Earth. The black man, original man, built great empires and civilisations and cultures while the white man was still living on all fours in caves. 'The devil white man,' down through history, out of his devilish nature, had pillaged, murdered, raped, and exploited every race of man not white.
Central to Muhammad's version of Islam was "Yacub's History", a bizarre history of the development of humans and the different races. A "big-headed scientist" called Yacub had been born in the early days of human history, so the story goes, who created the white race.
Little said:
Mr Yacub, to upset the law of nature, conceived the idea of employing what we today know as the recessive genes structure, to separate from each other the two germs, black and brown, and then grafting the brown germ to progressively lighter, weaker stages.

The humans resulting, he knew, would be, as they became lighter, and weaker, progressively also more susceptible to wickedness and evil. And in this way finally he would achieve the intended bleached-out white race of devils.
After several centuries, the white race had been created on a separate island. They returned to the "mainland" and mixed with the black people, causing trouble. They were rounded up by the blacks, put in chains and "marched to the caves of Europe".
According to the teachings of this 'Yacub's History', when the Bible says 'Moses lifted up the serpent in the wilderness' that serpent is symbolic of the devil white race Moses lifted up out of the caves of Europe, teaching them civilisation.

It was written that after Yacub's bleached white race had ruled the world for six thousand years down to our time-the black original race would give birth to one whose wisdom, knowledge, and power would be infinite.

"It was written that some of the original black people should be brought as slaves to North America – to learn to better understand, at first hand, the white devil's true nature, in modem times.
Little accepted Elijah Muhammad and his Nation of Islam theology. He used it to wash away his past crimes – in a legal and moral sense – and embrace a new direction for his life:
The very enormity of my previous life's guilt prepared me to accept the truth.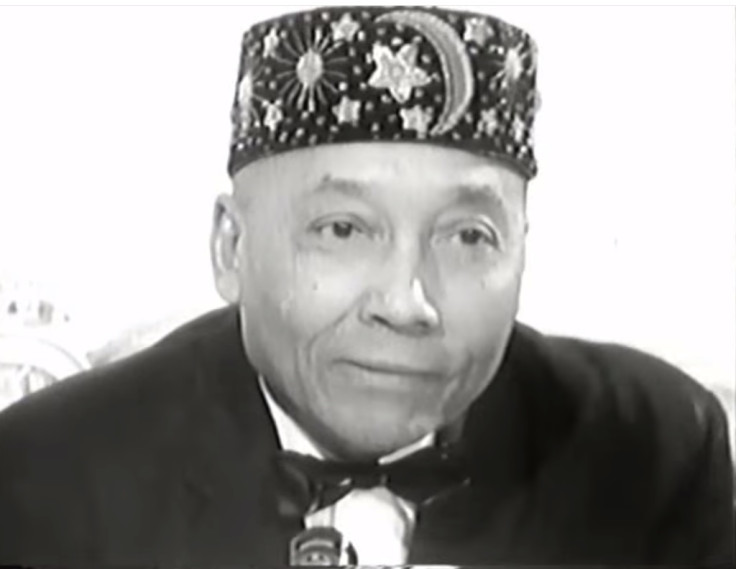 Dignity
Little began improving his education in prison, bettering his English and absorbing books on history, theology, science, geography. He was writing every day to Muhammad, for who he had been recruiting among other black inmates and propagandising about the "blue-eyed white devils".
He told them:
Every time you see a white man, think about the devil you're seeing! Think of how it was on your slave foreparents' bloody, sweaty backs that he built this empire that's today the richest of all nations-where his evil and his greed cause him to be hated around the world!
It was the Nation of Islam and Muhammad that had given Little, now a Muslim, racial confidence with a theological backing. In the summer of 1952, Little was released from prison and became deeply embedded in the Nation of Islam.
Little wrote on visiting a Nation of Islam temple in Detroit, the first he had been to:
I never had seen any Christian-believing negroes conduct themselves like the Muslims, the individuals and the families alike.

The men were quietly, tastefully dressed. The women wore ankle-length gowns, no makeup, and scarves covered their heads. The neat children were mannerly not only to adults but to other children as well.

I had never dreamed of anything like that atmosphere among black people who had learned to be proud they were black, who had learned to love other black people instead of being jealous and suspicious.

I thrilled to how we Muslim men used both hands to grasp a black brother's both hands, voicing and smiling our happiness to meet him again.

The Muslim sisters, both married and single, were given an honour and respect that I'd never seen black men give to their women, and it felt wonderful to me. The salutations which we all exchanged were warm, filled with mutual respect and dignity: 'Brother'. . . 'Sister'. . . 'Ma'am'. . . 'Sir'. Even children speaking to other children used these terms. Beautiful!
Soon after, he applied to change his surname to 'X' from the slaveowner's ancestral gift of Little:
The receipt of my 'X' meant that forever after in the nation of Islam, I would be known as Malcolm X.

Mr Muhammad taught that we would keep this 'X' until God Himself returned and gave us a Holy Name from His own mouth.
Another of Elijah Muhammad's odd teachings was on marriage, where he said tall men should not be with short women because it looked odd and that the "ideal" age for a wife was half the husband's age plus seven years.
Rise of Malcolm X
Malcolm X's devotion to Muhammad and his commitment to Islam intensified, as did his civil rights activism. He spoke forcefully – and controversially – about the evils of the white man, about black power and the right of black people to fight back with force if necessary against oppression.
He told one crowd:
Do nothing unto anyone that you would not like to have done unto yourself.

Seek peace, and never be the aggressor-but if anyone attacks you, we do not teach you to turn the other cheek. May Allah bless you to be successful and victorious in all that you do.
He was put in charge of a Nation of Islam temple in Harlem, which he had grown by recruiting from the black community. But his sermonising didn't always go down well, particularly with some women:
Every month, when I went to Chicago, I would find that some sister had written complaining to Mr Muhammad that I talked so hard against women when I taught our special classes about the different natures of the two sexes.

Now, Islam has very strict laws and teachings about women, the core of them being that the true nature of a man is to be strong, and a woman's true nature is to be weak, and while a man must at all times respect his woman, at the same time he needs to understand that he must control her if he expects to get her respect.
He soon found a wife, Betty, and began a family. He and the Nation of Islam were demanding a new, separate state for black people. They were working in communities to help get people off of drugs and to join the organisation. They "fished" for new recruits from Christian churches, with some success.
All the while they were attacked for anti-white racism and called demagogues. Malcolm X toured universities to give talks, spreading the philosophies of the Nation of Islam and defending black rights. Then the ageing Elijah Muhammad became ill.
Malcolm X wrote:
Anyone not a Muslim could not conceive what the possible loss of Mr Muhammad would have meant among his followers.

To us, the Nation of Islam was Mr Muhammad. What bonded us into the best organisation black Americans ever had was every Muslim's devout regard for Mr Muhammad as black America's moral, mental, and spiritual reformer.

Stated another way, we Muslims regarded ourselves as moral and mental and spiritual examples for other black Americans, because we followed the personal example of Mr Muhammad.

Black communities discussed with respect how Muslims were suspended if they lied, gambled, cheated, or smoked. For moral crimes, such as fornication or adultery, Mr Muhammad personally would mete out sentences of from one to five years of 'isolation', if not complete expulsion from the Nation.

And Mr Muhammad would punish his officials more readily than the newest convert in a mosque. He said that any defecting official betrayed both himself and his position as a leader and example for other Muslims.

For every Muslim, in his rejection of immoral temptation, the beacon was Mr Muhammad. All Muslims felt as one that without his light, we would all be in darkness.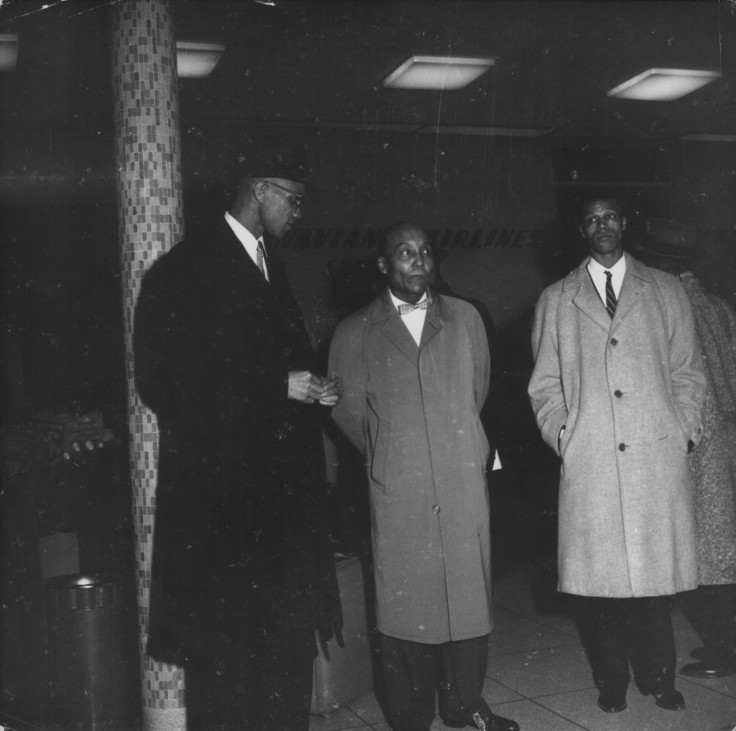 A revelation
Malcolm X had become a nationally-known figure in the US through his media appearances, talks and controversial statements. He was expanding the Nation of Islam across the US. Jealous critics within the movement accused him of trying to take over from Muhammad.
Both white people and negroes-even including Muslims-would make me uncomfortable, always giving me so much credit for the steady progress that the Nation of Islam was making.

All praise is due to Allah,' I told everybody. 'Anything creditable that I do is due to Mr Elijah Muhammad.'

I believe that no man in the Nation of Islam could have gained the international prominence I gained with the wings Mr Muhammad had put on me-plus having the freedom that he granted me to take liberties and do things on my own-and still have remained as faithful and as selfless a servant to him as I was.
But behind the scenes, Muhammad and his closest advisers were growing jealous of Malcolm X's profile, despite the fact he was using it to promote the Nation of Islam. Then came a moment that shook Malcolm X's faith in the man he admired most.
Elijah Muhammad was facing paternity suits from two of his former secretaries with who he had affairs and fathered children. Both were young women, in their twenties. It was 1963.
Malcolm X wrote:
As far back as 1955, I had heard hints. But believe me when I tell you this: for me even to consider believing anything as insane-sounding as any slightest implication of any immoral behaviour of Mr Muhammad-why, the very idea made me shake with fear.

And so my mind simply refused to accept anything so grotesque as adultery mentioned in the same breath with Mr Muhammad's name.
His younger brother Reginald, who had since left the movement and fallen on hard times, had tried to warn him that there was a darker side to Muhammad. But Malcolm X did not want to hear it at the time:
I don't think I could say anything which better testifies to my depth of faith in Mr Muhammad than that I totally and absolutely rejected my own intelligence. I simply refused to believe.

I didn't want Allah to 'burn my brain as I felt the brain of my brother Reginald had been burned for harboring evil thoughts about Mr Elijah Muhammad. The last time I had seen Reginald, one day he walked into the Mosque Seven restaurant. I saw him coming in the door.

I went and met him. I looked into my own brother's eyes; I told him he wasn't welcome among Muslims, and he turned around and left, and I haven't seen him since.

I did that to my own blood brother because, years before, Mr Muhammad had sentenced Reginald to 'isolation' from all other Muslims-and I considered that I was a Muslim before I was Reginald's brother.
A death sentence
When President John F. Kennedy was assassinated in 1963, Elijah Muhammad put out a diktat that no Nation of Islam member was allowed to pass comment on it in the press. Malcolm X broke this rule when he told a journalist that the "chickens had come home to roost", to much public outrage.
A furious Muhammad said Malcolm X's comments about the admired Kennedy had made life difficult for American Muslims. He silenced him for 90 days as a sanction. Malcolm X submitted to his sanction, but false reports emerged suggesting he had resisted Muhammad's decision.
It was the breaking point. The Muslims in the Nation of Islam were told that Malcolm X was rebelling against their leader. Malcolm X saw this as a sign the leaders wanted him out, or even dead. It was the start of a chain of events that would lead to his assassination in 1965. He wrote:
The first direct order for my death was issued through a Mosque Seven official who previously had been a close assistant.

Another previously close assistant of mine was assigned to do the job. He was a brother with a knowledge of demolition; he was asked to wire my car to explode when I turned the ignition key. But this brother, it happened, had seen too much of my total loyalty to the Nation to carry out his order.

Instead, he came to me. I thanked him for my life. I told him what was really going on in Chicago. He was stunned almost beyond belief.

This brother was close to others in the Mosque Seven circle who might subsequently be called upon to eliminate me. He said he would take it upon himself to enlighten each of them enough so that they wouldn't allow themselves to be used.

This first direct death-order was how, finally, I began to arrive at my psychological divorce from the Nation of Islam.

I began to see, wherever I went-on the streets, in business places, on elevators, sidewalks, in passing cars-the faces of Muslims whom I knew, and I knew that any of them might be waiting the opportunity to try and put a bullet into me.
Malcolm X broke away from the Nation of Islam and established the Muslim Mosque Incorporated and the Organisation of Afro-American Unity. Some old members of the Nation of Islam followed him out of the door. It would be a political and religious lobbying group for the advancement of black rights:
US politics is ruled by special-interest blocs and lobbies. What group has a more urgent special interest, what group needs a bloc, a lobby, more than the black man?
Hajj: True Islam
When speaking at universities across the US, some Muslim students had urged him to go on the Hajj, a pilgrimage to Mecca, to discover "true Islam", which was different to what Elijah Muhammad was teaching. In 1964, with the financial and moral support of his sister Ella, he decided it was time to make that journey.
It proved to be a transformative experience. His faith developed in a way that allowed him to see beyond skin colour. He said of his journey:
Packed in the plane were white, black, brown, red, and yellow people, blue eyes and blond hair, and my kinky red hair-all together, brothers!

All honouring the same God Allah, all in turn giving equal honour to each other.
He began to learn the traditional Muslim rituals, such as how to pray properly and speak in Arabic. He changed his name to El-Hajj Malik El-Shabazz. He met leaders from Africa and the Middle East, including the Saudi Prince Faisal. He met many non-black people, who were all good to him:
It was when I first began to perceive that 'white man', as commonly used, means complexion only secondarily; primarily it described attitudes and actions," he said.

In America, 'white man' meant specific attitudes and actions toward the black man, and toward all other non-white men. But in the Muslim world, I had seen that men with white complexions were more genuinely brotherly than anyone else had ever been.
He witnessed thousands of pilgrims from across the world, of all colours, coming together in one place.
The sight of Mecca, the holiest city in Islam, gave him a profound sense of spiritual fulfilment. He said he saw all people "participating in the same ritual, displaying a spirit of unity and brotherhood that my experiences in America had led me to believe never could exist between the white and the non-white".
America needs to understand Islam, because this is the one religion that erases from its society the race problem.

My pilgrimage broadened my scope. It blessed me with a new insight. In two weeks in the Holy Land, I saw what I never had seen in thirty-nine years here in America. I saw all races, all colours –blue-eyed blonds to black-skinned Africans –in true brotherhood! In unity! Living as one!

Worshiping as one! No segregationists-no liberals; they would not have known how to interpret the meaning of those words.

In the past, yes, I have made sweeping indictments of all white people. I never will be guilty of that again-as I know now that some white people are truly sincere, that some truly are capable of being brotherly toward a black man.

The true Islam has shown me that a blanket indictment of all white people is as wrong as when whites make blanket indictments against blacks.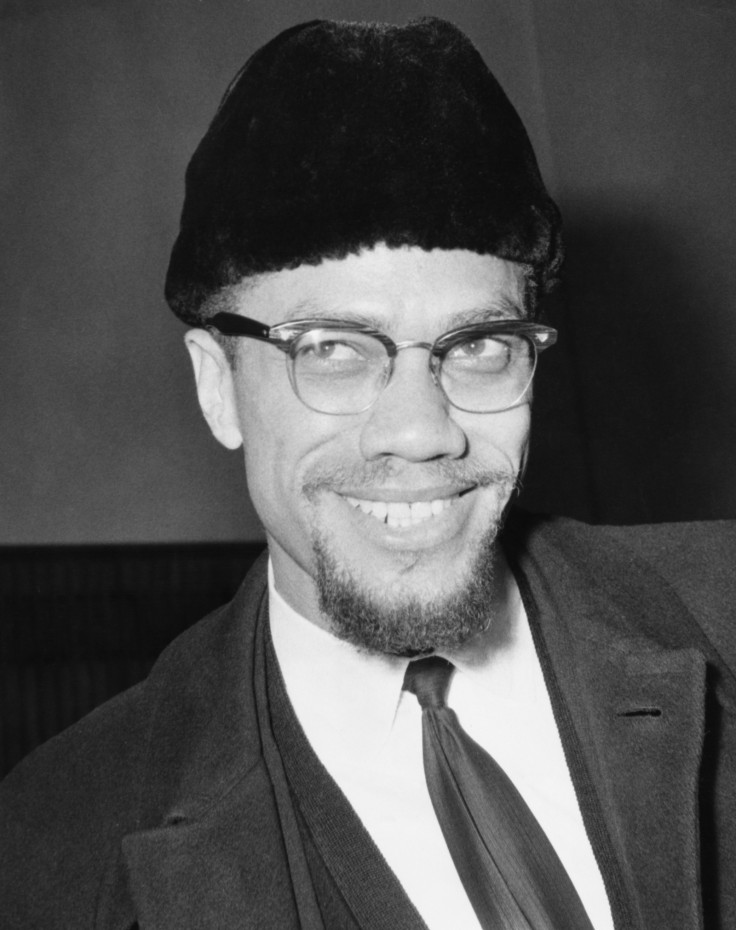 Malcolm X in 1965, shortly before his murder by members of the Nation of Islam.
Getty
It was a new message he would spread when he returned to America, one of an all-embracing "true Islam", that it takes "all of the religious, political, economic, psychological, and racial ingredients, or characteristics, to make the Human Family and the Human Society complete".
Since I learned the truth in Mecca, my dearest friends have come to include all kinds – some Christians, Jews, Buddhists, Hindus, agnostics, and even atheists!

I have friends who are called capitalists, Socialists, and Communists! Some of my friends are moderates, conservatives, extremists-some are even Uncle Toms! My friends today are black, brown, red, yellow, and white!
But Malcolm X knew he was on borrowed time. He was aware more than most that the Nation of Islam had not forgiven him, and would not, so the bounty on his head remained.
He spoke often and at length about his newfound inclusive philosophies, expressing regret at his former beliefs but losing none of the fire that fuelled his fight for equal black rights in America that has made him a name as ubiquitous as his Christian rival Martin Luther King.
Before the Haley autobiography was even published, Malcolm X was gunned down in a hail of bullets at a talk in New York in 1965. His Islamic journey had come full circle. It had saved him from himself twice – then it killed him.
© Copyright IBTimes 2023. All rights reserved.