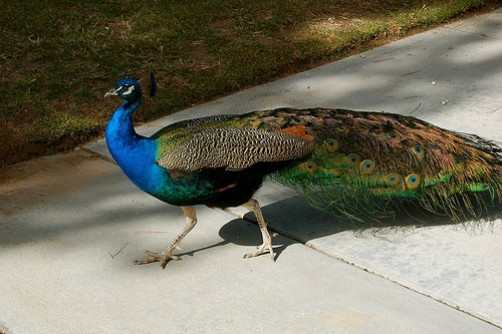 A US man has been charged with animal cruelty for sexually assaulting his pet peacock. The bird was found dead in the man's garage.
David Beckmann, a 63-year-old resident of Roselle, a suburb of Chicago, Illinois, was under investigation for a different crime when cops found out that he had abused his pet peacock.
According to a Roselle police report, Beckmann was being investigated for battery and attempted indecent solicitation of a child when police discovered the peacock, named Phyl, dead in his garage on 28 April, NBC Chicago reports. Further investigation confirmed that the bird had been sexually abused but the cause of its demise remains unclear.
Roselle police refused to discuss the animal cruelty charge as it was a part of another case involving a child aged between 13 and 17 years old, the Daily Herald reported.
Apart from animal cruelty, the man also faces three charges of harassment by telephone, unlawful possession of drug paraphernalia, two counts of marijuana possession, attempted indecent solicitation of a child, and two counts of battery.
Beckmann, who was held at DuPage County Jail on Friday 10 May on a $10,000 bond, has his arraignment scheduled for 12 June.
The alleged peacock molestation is just the latest in a series of animal-sex scandals to hit the United States.
In September 2012, 31-year-old Florida man Carlos Romero was accused of having sex with a donkey.
In February this year, Andrew Mendoza of Texas was arrested after trying to make a baby with his neighbour's horse. He pleaded guilty to charges of public lewdness and criminal trespass, stating in a court document, "I was thinking it would have a horseman baby."
Finally, in April this year, Michigan man Kurtis Peterson was sentenced to up to 15 years in prison for having sex with two dogs.