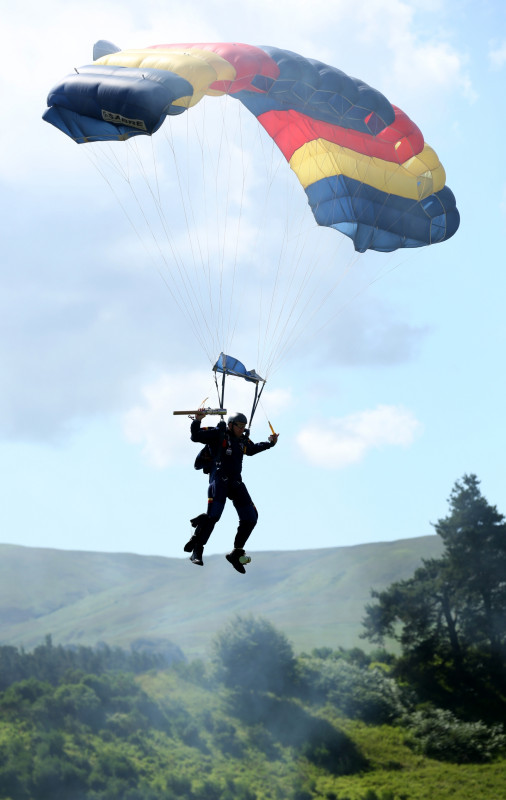 A man has been arrested on suspicion of attempted murder after a woman plunged 4,000ft after her parachute failed to open.
The woman, 39, suffered multiple injuries after her main parachute failed to fully deploy following her routine jump at Netheravon Airfield in Netheravon, Wiltshire.
Police said the victim's parachute failed to open because "slinks" were missing from the parachute and may have been removed on purpose.
The woman "miraculously" survived and suffered only broken bones as her reserve parachute –which was also missing the vital parts – managed to partially open, causing her decent to slow.
She was taken to Southampton Hospital and has since been discharged. She remains in a stable condition with multiple fractures throughout her body.
Police believe the parachute was deliberately sabotaged and have arrested a 35-year-old man on suspicion of murder. He has since been bailed to return at a later date.
Detective inspector Paul Franklin said: "This woman would have been dead if her 'chute hadn't partially opened, this meant her descent was slowed enough for her to survive the fall. However, we were alerted to concerns over what had happened by the parachute club and as a result instigated an investigation.
"We would like to hear from anyone who may have information that may assist us with this enquiry. Someone may hold vital information that will give us some clues to how this happened. We have spoken to lots people at the club but would like to hear from anyone else who may have witnessed the fall.
"In particular, we are looking for "slinks" that were missing from the parachute which may have been removed and discarded somewhere. This woman survived this fall miraculously but despite her experience, she very nearly lost her life."