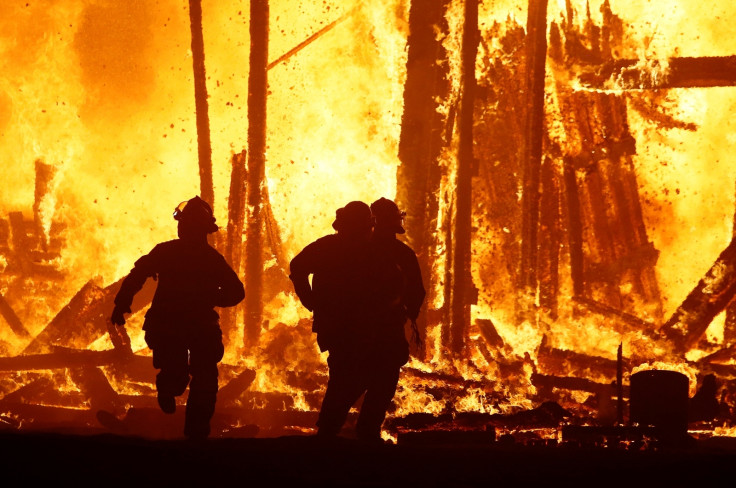 Nevada's famous Burning Man festival came to an end with a fatality after an attendee caught fire and died when he intentionally ran into the flames of event's effigy.
Over 50,000 spectators were watching the signature "Man Burn" on 2 September when 41-year-old Aaron Joel Mitchell decided to break through two security barricades and run into the flames. On nearing the blaze he caught fire and collapsed.
The raging flames made it more difficult for emergency and security personnel to rescue the man and were further delayed when parts of the wooden structure began collapsing.
Once the fire was contained, Mitchell was removed from the burning embers and taken to UC Davis hospital where he died from the burns in the early hours of 3 September.
"He succumbed after arriving at the burn centre," organisers said in a statement. Nevada's Pershing County Sheriff Jerry Allen added that the doctors confirmed that while there were no indications that he had alcohol in his system, they were awaiting a toxicology report to identify if Mitchell had consumed drugs.
"We don't know if it was intentional on his part or if it was just kind of induced by drugs. We're not sure of that yet," Allen said according to ABC News. He also expressed concern for the younger festival-goers who could have difficulty coping "when they see something this tragic happen before their eyes".
Mitchell — a US citizen living in Switzerland with his wife — was one among thousands of people who made their way to the Black Rock Desert to attend the eight-day art and music festival. According to the Review-Journal, his mother Johnnye revealed that this was her son's first time as a burner (what attendees are called).
The Saturday night burn was one of the main closing weekend events planned. Organisers cancelled most follow-up burns on Sunday, but went ahead with the signature Temple burn, which marks the end of the festival.
"We're aware this incident has affected not only those who responded immediately on the scene, but also those who witnessed it, and our Black Rock City community more broadly. We are working to make resources available to those affected," they said in a statement on their website.
"Now is a time for closeness, contact and community. Trauma needs processing. Promote calls, hugs, self-care, check-ins, and sleep."