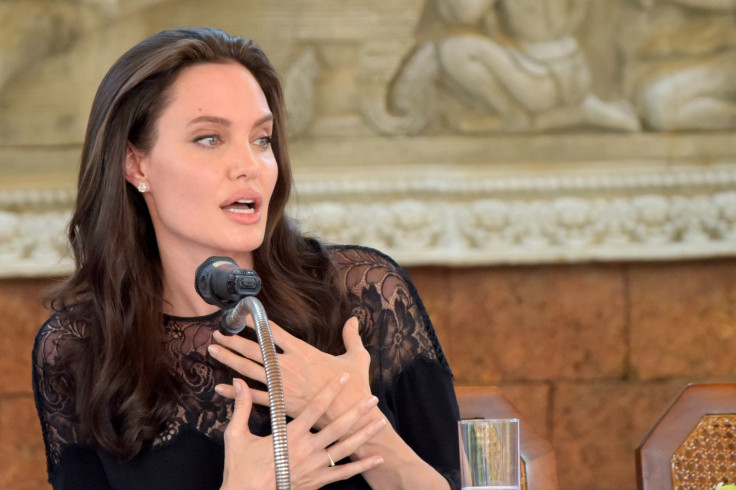 When Angelina Jolie agreed to talk to the press to promote her new film First They Killed My Father, she came ready to answer questions about her highly publicised personal life as well. Following her split from husband Brad Pitt, the actress has managed to keep a low profile as she concentrated on her family and philanthropic work, but now is back in the limelight for the Cambodia-based drama which she produced and directed.
"This is the first time I have done this for a long time. It's not easy," she told The Telegraph. "I am a little shy this time, because I am not as strong inside as I have been in the past."
Jolie filed for divorce from Pitt in 2016 and since then, has been at the eye of a media storm.
"I don't enjoy being single," she explained. "It's not something I wanted. There's nothing nice about it. It's just hard.
"Sometimes maybe it appears I am pulling it all together, but really I am just trying to get through my days," she added.
Alongside the divorce, the Salt actress has faced a rough couple of years as she suffered through various ailments. After undergoing a preventive double mastectomy in 2013, Jolie had her ovaries removed in 2015. A year later she was diagnosed with hypertension and Bell's palsy.
"Emotionally, it's been a very difficult year," she said. "So my health is something I have to monitor."
"I feel sometimes that my body has taken a hit, but I try to laugh as much as possible. We tend to get so stressed that our children feel our stress when they need to feel our joy. Even if you are going through chemo, you need to find the ability to love and laugh. It may sound like a postcard, but it's true."
It makes sense then that Jolie decided to make her comeback with a film that spoke to her at a personal level.
First They Killed My Father is based on a book by Cambodian refugee Loung Ung who moved to the US in 1980. It narrates how Ung went through the horrors of the Khmer Rouge in the late 1970s.
For the 42-year-old star, working in Cambodia was equally significant considering her long relationship with the country. "Cambodia made me a mother. Maddox – that's the beginning of my family: Mad and I coming together was the beginning of so much," she explained to The Hollywood Reporter of the country's government granting her citizenship. "So I feel so connected to this country, and I was really honoured and wanted to do great things for the country, and work in an even deeper way."
Along with Jolie, this film was important to 16-year-old Maddox as well and he worked on the project as a producer. "He was the one who said he wanted us to make the film. We'd had the script for a few years. We said, 'When you're ready – because you're going to have to work with us – go deep, research, be there.'
"One day he told me he was ready, and so I called Loung."
After her promotional activities for the film, Jolie plans to get back to acting and will most probably get started with the Maleficent sequel in a few months. She is also considering a script on the story of Cleopatra.
First They Killed My Father makes its commercial release on 15 September on Netflix.