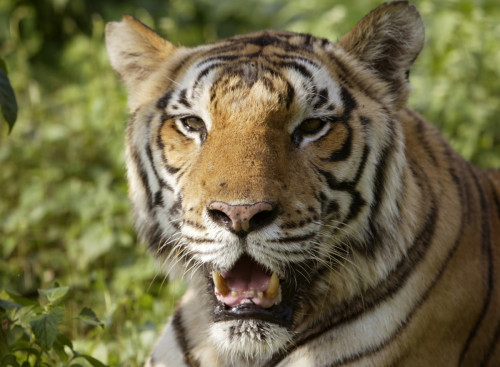 A man-eating tigress which has killed up to 10 people in the foothills of the Himalyas is being hunted down before it kills again.
A 50-year-old villager who was collecting firewood in Uttarakhand state was the latest victim. Villagers found the tigress eating his abdomen and legs before they managed to chase it away. The villager died in the attack.
The four-year-old Indian tiger strayed out of a national park in northern India a month ago and has been terrorising villages in the region ever since.
The tiger did not eat its first five victims, who died from severe injuries sustained in mauling, but experts fear that it has developed a taste for human flesh and will continue its rampage until it is "removed". That means it must be either killed or captured, reported the Telegraph.
There were also fears of the existence of a second man-eating tiger on the loose but that has not been confirmed.
Kamlesh Kumar, conservator of forests in Moradabad, Uttar Pradesh, said: "It has strayed from Jim Corbett Park and travelled 120km to rural Moradabad. We are trying to understand why it went unnoticed all the way, as the sighting happened only after it killed while returning to Jim Corbett [National Park].
"We have been following it since then. Our understanding is that the animal has panicked and attacked humans."